APSU Men's Basketball

Jacksonville, AL – Junior center John Fraley scored a career-high 25 points and grabbed 12 rebounds as Austin Peay State University rallied from a nine-point second-half deficit to defeat Jacksonville State, 73-70, Tuesday night in Ohio Valley Conference action at Pete Mathews Coliseum.
Fraley connected on 9-of-10 floor shots and seven free throws to best his previous career scoring best (21 points) set Saturday night against Tennessee State. It was Fraley's third double-double this season and 10th of his career.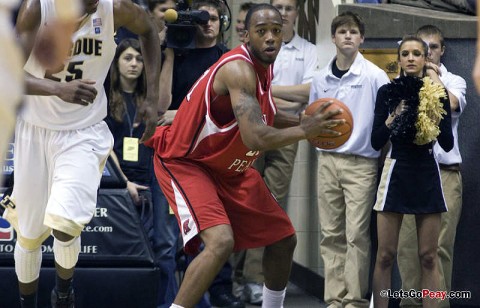 His inside performance allowed the Govs to improve to 17-11 on the season and 11-5 in the OVC. Jacksonville State, meanwhile, slipped to 5-23 overall and 3-15 in OVC play.
Fraley led an inside effort that saw the Govs dominate Jacksonville State. Freshman forward Will Triggs scored 14 points, his fifth straight double-figure game—while narrowly missing a double-double as he finished with nine rebounds. The Govs out-rebounded Jacksonville State, 42-28.
Austin Peay fell behind in both halves. The Governors trailed 36-26 with 2:05 left in the opening half, only to close the game to four in the closing seconds.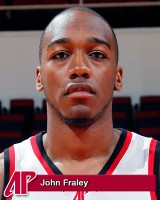 Then in the second half Jacksonville State led by nine, 44-35, on a Brian Williams' three pointer with 16:20 left in the half.
But the Governors scored the next nine points—a bucket and two free throws by Fraley; a TyShwan Edmondson three pointer and an inside Will Triggs score—to tie the game. After Jacksonville State scored the next bucket to regain the lead, the Govs completed their 16-2 run on a Triggs' three-point play, a Caleb Brown lane floater and a Fraley inside bucket. That gave the Govs a 51-46 lead and the Govs would never trail again.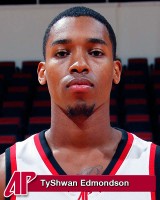 It then became a matter of the Govs holding off the stubborn Gamecocks down the stretch. APSU led by seven, 66-59, with 45 seconds left after Edmondson hit Triggs with a picture-perfect bounce pass for a layup.
Two JSU free throws followed to cut to five, but John Fraley made one-of-two free tosses to push it back to six. Jeremy Bynum and Nick Murphy sandwiched three pointers around two Brown free throws and one from Edmondson to make it a 70-67 contest with 10 seconds left.
Brown made another free throw to make it a four-point game with 8.5 seconds left before B.J. Miller knocked down a three pointer with five ticks remaining to make it a one-point game, 71-70.
The ball was inbounded to Brown, who was fouled with 2.8 seconds left. He finished the final 30 seconds by hitting two more free throws for a seven-for-eight stretch. The Gamecocks chance for a game-tying three fell short as the buzzer sounded.
Edmondson matched Triggs' 14-point effort while also dishing out four assists.
Brown finished with 11 points while also collecting six steals.
Murphy, playing his final career home game at JSU led the Gamecocks with 22 points while Bynum, also playing his final home game, added 15.
The Governors will be back in action  Saturday, February 19th againest Fairfield at Bridgeport, CT in the ESPNU BracketBusters. The game starts at 12:00pm.
Box Scores
Austin Peay vs Jacksonville State
2/15/11 – 7:00pm at Jacksonville, AL. (Pete Mathews Col.)
Austin Peay 73
 
 
 
Total
3-point
 
Rebounds
##
Player
p
fgm-fga
fgm-fga
ftm-fta
off-def
tot
pf
tp
a
to
blk
stl
min

03 

BROWN, Caleb 

* 

2-6 

0-0 

7-8 

1-2 

3 

0 

11 

3 

3 

0 

6 

33 

10 

TRIGGS, Will 

* 

6-13 

0-0 

2-3 

5-4 

9 

2 

14 

1 

2 

0 

1 

33 

12 

EDMONDSON, Tyshwan 

* 

5-16 

3-5 

1-2 

1-3 

4 

3 

14 

4 

4 

0 

1 

35 

21 

FRALEY, John 

* 

9-10 

0-0 

7-11 

4-8 

12 

2 

25 

0 

1 

1 

1 

36 

32 

BLAKE, Justin 

* 

1-1 

0-0 

0-0 

0-0 

0 

1 

2 

1 

2 

0 

0 

15 

04 

WILLIAMS, Marcel 

– 

0-0 

0-0 

0-0 

1-0 

1 

0 

0 

0 

0 

0 

0 

7 

05 

CALDWELL, Tyrone 

– 

0-1 

0-0 

2-2 

0-0 

0 

0 

2 

1 

1 

0 

0 

7 

20 

BAKER, Melvin 

– 

0-1 

0-0 

0-0 

0-0 

0 

1 

0 

0 

1 

0 

0 

4 

23 

TERRY, Josh 

– 

1-9 

0-0 

3-4 

4-2 

6 

5 

5 

3 

0 

0 

3 

30 

TM 

TEAM 

– 

– 

– 

– 

4-3 

7 

– 

– 

– 

– 

– 

– 

– 

 

Totals………….. 

– 

24-57 

3-5 

22-30 

20-22 

42 

14 

73 

13 

14 

1 

12 

200 

 

42.1% 

60.0% 

73.3% 

 
Team summary:
 
FG
3FG
FT
 
1st Half: 
 

11-29 

1-2 

9-10 

 

37.9% 

50.0% 

90.0% 

 
2nd Half: 
 

13-28 

2-3 

13-20 

 

46.4% 

66.7% 

65.0% 
Jacksonville State 70
 
 
 
Total
3-point
 
Rebounds
##
Player
p
fgm-fga
fgm-fga
ftm-fta
off-def
tot
pf
tp
a
to
blk
stl
min

01 

MILLER, B.J. 

* 

4-6 

2-4 

2-2 

0-0 

0 

1 

12 

5 

2 

0 

1 

18 

02 

HALL, Stephen 

* 

3-8 

0-0 

1-2 

2-2 

4 

2 

7 

1 

1 

0 

1 

28 

13 

MURPHY, Nick 

* 

9-15 

2-3 

2-5 

2-7 

9 

3 

22 

2 

2 

1 

2 

37 

14 

BYNUM, Jeremy 

* 

4-11 

3-8 

4-5 

1-2 

3 

3 

15 

1 

1 

0 

2 

29 

21 

WILLIAMS, Brian 

* 

3-6 

3-5 

0-0 

0-1 

1 

2 

9 

2 

2 

1 

1 

25 

05 

JENKINS, Brice 

– 

0-0 

0-0 

0-0 

0-4 

4 

4 

0 

3 

1 

0 

0 

19 

15 

BOUGHER, Frankie 

– 

1-2 

1-1 

0-0 

1-1 

2 

0 

3 

0 

1 

0 

0 

12 

22 

GRAY, Leventrice 

– 

0-1 

0-0 

0-0 

0-0 

0 

3 

0 

1 

0 

0 

1 

7 

32 

THURSTON, Sean 

– 

0-3 

0-0 

0-0 

2-1 

3 

3 

0 

0 

3 

7 

0 

17 

33 

COOK, Nick 

– 

1-1 

0-0 

0-0 

1-1 

2 

1 

2 

0 

0 

1 

1 

8 

TM 

TEAM 

– 

– 

– 

– 

0-0 

0 

– 

– 

– 

– 

– 

– 

– 

 

Totals………….. 

– 

25-53 

11-21 

9-14 

9-19 

28 

22 

70 

15 

13 

10 

9 

200 

 

47.2% 

52.4% 

64.3% 

 
Team summary:
 
FG
3FG
FT
 
1st Half: 
 

14-28 

6-10 

2-4 

 

50.0% 

60.0% 

50.0% 

 
2nd Half: 
 

11-25 

5-11 

7-10 

 

44.0% 

45.5% 

70.0% 
| | | | | |
| --- | --- | --- | --- | --- |
| Score by Periods |  1st  |  2nd  |  Total  |   |
| Austin Peay   | 32  | 41  | 73  | Record: (17-11, 11-5 OVC)  |
| Jacksonville State   | 36  | 34  | 70  | Record: (5-23, 3-14 OVC)  |
Officials: R-Byron Evans, U1-Barry Mathis, U2-Bret Smith

Technical fouls: Austin Peay-None. Jacksonville State-None.

Attendance: 1465