APSU Women's Tennis

Lousiville, KY – Austin Peay State University women's tennis suffered a tough defeat, Friday night, falling 6-1 to Miami (Ohio) in a neutral-site match played at Louisville.
It was Austin Peay's second loss this season and also its second road loss. Even more remarkable was that the Lady Govs won the doubles point to open the match, but dropped all six singles matches.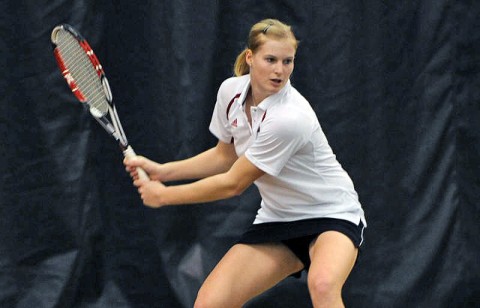 It was the first time for Austin Peay to win the doubles point, but lose the match since dropping a 4-3 decision at Southern University, March 12th, 2009. In fact, after winning the doubles point, the Lady Govs had won 16-straight matches.
Freshman Kimberly Loo and sophomore Carolin Weikard picked up an 8-4 win at No. 1 doubles, helping the Lady Govs top tandem remain perfect on the year. Junior Vanja Tomic and freshman Andra Cornea then won an 8-6 match at No. 2 doubles to give Austin Peay the point.
Things didn't bode so well in singles action for Austin Peay. Tomic, Weikard and Cornea each fell in straight sets at the top three singles spots. At No. 4, Loo split the first two sets, but couldn't hang on in losing the tiebreaker, 10-7.
Austin Peay has two days before opening Ohio Valley Conference play with a 2:00pm, Sunday match at Tennessee State.
Miami 6, Austin Peay 1
 Singles competition
Anastasia Dracheva (MIAMI) def. TOMIC, Vanja (APSU) 6-4, 6-4
Stephanie Danesis (MIAMI) def. WEIKARD, Carolin (APSU) 6-4, 6-2
Megan Martzolf (MIAMI) def. CORNEA, Andra (APSU) 6-0, 6-0
Riekie Honiball (MIAMI) def. LOO, Kimberly (APSU) 6-2, 2-6, 10-7
Cara Wald (MIAMI) def. MARGOLIES, Rachel (APSU) 6-2, 6-4
Nimisha Mohan (MIAMI) def. No player (APSU), by default
 Doubles competition
LOO, Kimberly/WEIKARD, Carolin (APSU) def. Stephanie Danesis/Megan Martzolf (MIAMI) 8-4
TOMIC, Vanja/CORNEA, Andra (APSU) def. Riekie Honiball/Jessica Parr (MIAMI) 8-6
Cara Wald/Anastasia Dracheva (MIAMI) def. No player/No player (APSU), by default