APSU Track and Field

Charleston, IL – Austin Peay State University women's track and field team finished sixth at the Ohio Valley Conference Indoor Championships, Saturday.
Eastern Illinois won the women's title, followed by Eastern Kentucky and Southeast Missouri rounding out the top three. Jacksonville State took fourth, while Tennessee State, Austin Peay, Murray State and Tennessee Tech made up the rest of the field.
"We're disappointed," head coach Doug Molnar said. "We are a better team than what showed out there. We didn't score the points we thought we would in any of the jumps. (Freshman) April (Holman) did well in the high jump and (junior) Keyvia (Davis) was strong in the triple, but overall, it wasn't what Austin Peay is known for."
The Lady Govs' highlights were few during the championships. Holman earned second place in the high jump, Friday, with a 1.65m jump. A foul on an early jump was the difference between first and second place; Holman caught a leg on the bar which proved to be the decider.
Senior Chiamaka Obi finished third in the 400-meter dash at 56.70, which was slightly off her preliminary pace of 56.52. Sophomore Jasmine Scott, meanwhile, finished seventh at 58.80.
Keyvia Davis picked up a fourth-place finish in the triple jump, improving from a seventh-place prelim jump of 11.14m. In the finals, Davis leaped at 11.26m, earning five points for the Lady Govs.
"Obi did a really nice job and really came close to moving up a spot," Molnar said. "She didn't get the break she wanted and pretty much ran out of real estate. They were really close coming down the stretch and there just wasn't enough room.
 "Keyvia did a nice job in the triple jump. She got better every jump during the competition and that's really what you want to see."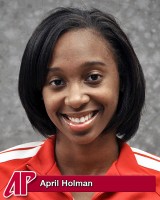 The Lady Govs will have to move on quickly with the outdoor season right around the corner. In fact, things get started, Friday, March 11th, at the Coastal Carolina Invite.
"We have to work on our effort for the outdoor," Molnar said. "We can get things turned around. We're going to take a break and then get things ready for Coastal Carolina."