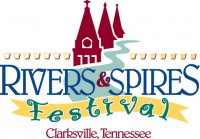 Clarksville, TN – The best and brightest were spotlighted at Southeast Festivals and Events Kaleidoscope Awards. Hosted at the Stone Mountain Inn, St. Mountain, Georgia, February 21st-23rd, the ceremony was held in conjunction with the annual Southeast Festivals and Events (SFEA) conference. Top festivals and events throughout the southeast were recognized for their outstanding contribution to the events industry.
Clarksville's own Rivers and Spires Festival won Gold this year for Best Festival With a Budget Over $75,000. This adds to the already impressive lineup of awards the festival has received since its inception in 2003. There to receive the award was Convention and Visitors Bureau Director, Theresa Harrington and Festival Director, Doug Barber.
"Winning the award at the SFEA conference is a great honor, especially since there were many other festivals in the running. It is also a great way to see what other leaders in the industry are doing," said Barber.
"The quality of submissions continues to go up each year making it more difficult to choose only one winner," mentioned Carolyn Morris, executive director for SFEA. "It is a shame that only one can 'win gold.' It is a wonderful opportunity to showcase your event or community and award those who have worked hard creating the perfect event or festival. The recognition a festival gets for winning is priceless."
The name "kaleidoscope" was selected due to the colors in the image that represent the many different festivals and facets within events. This year a new logo accompanied the plaques and certificates that were handed out to the recipients.
The ceremony recognized diverse items such as best t-shirt, best volunteer to best event. The awards acknowledge special achievement in the states of Alabama, Florida, Georgia, Kentucky, Mississippi, North Carolina, South Carolina, Tennessee and Virginia. The awards program is sponsored by RCS Production.
The 9th annual Rivers & Spires Festival will be held April 14th-16th, 2011 in downtown Clarksville. This event has six stages of entertainment with over 100 entertainers performing all three days. From children's activities, arts & crafts, car shows, military exhibits, jazz and wine, shopping and so much more this is truly an event for the whole family. Admission to the festival is free including all games, activities and concerts.
For more information about Rivers & Spires contact Doug Barber at 931-245-4344 or e-mail or visit us at www.riversandspires.com
Become a fan on Facebook or follow us on Twitter @RIVERSandSPIRES.