APSU Men's Basketball

Clarksville, TN – TyShwan Edmondson, Austin Peay State University's junior guard who led the team in scoring 26 times in his first Governors season, has been named first-team All-Ohio Valley Conference, as announced by the league office, Tuesday.
Edmondson, who transferred to APSU this season from Midland (Texas) College, also was named to the OVC All-Newcomer team.  After leading the OVC in scoring for much of the season, his 17.6 points per game mark is just percentage points behind Morehead State's Kenneth Faried entering the OVC tourney. He also is averaging 4.5 rebounds and 2.0 assist per games. His 58 steals lead the Govs.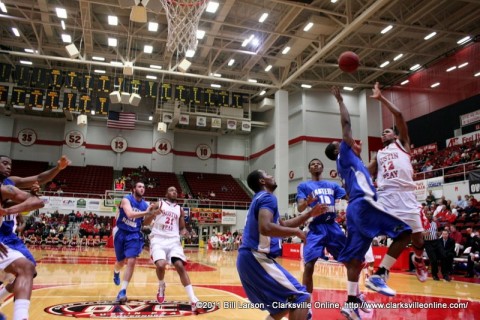 "TyShwan really has had a good year for us," APSU coach Dave Loos said. "I don't think I knew when we signed him that he would achieve all the things that he has this year. I thought he would a good player and fit well into our program.
"But I would be less than honest if I told you I was recruiting a first-team all-conference player. I thought perhaps his second year he could achieve something like that. I think it is real tribute to him to achieve something like this right out of the gate in our conference."
The Hopkinsville, KY, native criss-crossed the country over the previous two seasons before finding his destination—and nearly 4,000 miles later—almost back home. Edmondson played as a freshman in New York at St. John's before heading southwest as a sophomore, traveling nearly 1,900 miles in ending up in Texas. Another 1,000 miles later, he ended up 30 miles away from Hopkinsville.
The long trip proved to be worth it for both Edmondson and the Governors in replacing the graduated Wesley Channels as APSU top perimeter performer. A reserve earlier this season, he stepped into the starting lineup at Purdue and has started the last 27 games. He scored double digits in the first 16 Governors games. His emergence became even more important when preseason All-OVC selection Anthony Campbell suffered a season-ending knee injury back in early December.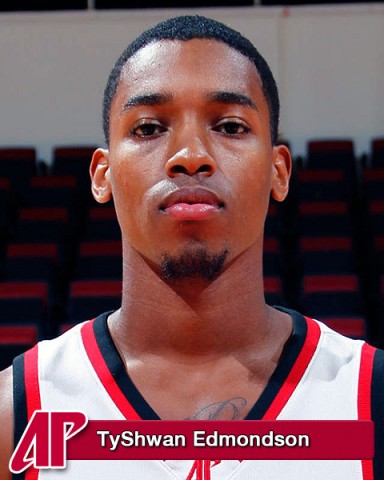 Edmondson not only has reached double figures 26 times this season, but has tallied 20 or more points on 13 occasions. He scored 33 points to go with 10 rebounds in his fifth start at Eastern Illinois and matched it in January with another 33-point effort against Tennessee State—his seven three pointers in that game are an OVC best this season. He is just one of two OVC players this season to own a pair of 30-point games.
"When I look at it on the backside, we had a first-team all-conference who was coming off the bench earlier in the season," said Loos laughingly. "It is quite a leap. It is a real compliment to him and his teammates. They put him in a position to be very successful.  Especially when Anthony got injured, he was thrust into a (scoring) role.  It is enough of an adjustment to join a new team, to play at this level, but to exceed all expectations and become an All-OVC player is quite an achievement."
Back in late November, Edmondson was named to the Chicago Invitational Challenge All-Tournament team after averaging 18.3 ppg in three games. He led the Govs in scoring at No.8 Purdue with 16 points. Later in the week, he had 25 points against Oakland. In between those games, he had 14 points and five steals versus Charleston Southern.
The 6-4 guard recorded a trio of double-doubles. In addition to his 33-point, 10-rebound effort at EIU, he also had 22 points and 10 rebounds at Memphis along with 13 points and a season-best 11 rebounds just last week against Eastern Illinois.