APSU Women's Basketball

Nashville, TN – One of the Ohio Valley Conference's most-played series will resume when Austin Peay women's basketball team faces regular-season champion Tennessee Tech in a noon, Friday semifinal contest in the OVC Women's Basketball Championship at Municipal Auditorium.
Fifth-seeded Austin Peay advanced to the semifinal round with a 71-64 first-round victory against eighth-seeded Murray State and a 78-72 quarterfinal win against fourth-seeded Eastern Illinois. Top-seeded Tennessee Tech received a double-bye and will be playing its first tournament contest.
These two teams are not strangers, Thursday's meeting the 85th according to Tennessee Tech's records which date back to 1970. It will be the ninth meeting between the two teams in OVC Tournament play and the fifth since the 2000 season. APSU and TTU met in the opening round of last season's tournament, the then No. 3-seed Lady Govs defeating the No. 6-seed Golden Eagles in Clarksville.
With Thursday's first-round victory, Austin Peay has won eight of its last nine games. The lone loss in that span was a February 24th loss to Eastern Illinois. Since February's start the Lady Govs have had six players average seven or more points a game. Senior Brooke Faulkner, who scored a career-high 20 points in the first-round win, is averaging 13.3 points per game in the last nine games.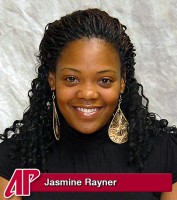 Tennessee Tech went 5-2 in February with losses to No. 2 seed UT Martin, on February 12th, and Austin Peay, on February 19th. The Golden Eagles have are 14-3 since the calendar rolled over to 2011. Tennessee Tech is led by first-team All-OVC selection and Co-Defensive Player of the Year Tacarra Hayes who averaged 16.1 points, 7.6 rebounds, 4.6 assists and 1.7 steals – all team bests.
The two squads split the regular-season series with the road team winning each contest. Tennessee Tech posted a 69-65 victory, January 20th, in Clarksville as junior Jasmine Rayner posted a 16-point, 13-rebound double-double effort. Austin Peay returned the favor by handing Tennessee Tech its only home loss in OVC play courtesy a 63-57 win, February 19th in Cookeville with Faulkner scoring 14 points as one of four APSU players to score 10 or more points.
Lady Govs In The OVC Championship
Austin Peay is 9-5 against teams in the tournament field. In its half of the bracket, the Lady Govs swept No. 8 Murray State, were swept by No. 4 Eastern Illinois and split with No. 1 Tennessee Tech.
The Lady Govs are 7-2 all-time in OVC Tournament games played at Nashville's Municipal Auditorium and won the 1996 and 2004 titles there.
Austin Peay is 26-11 all-time in OVC Championship Tournament play.
The Lady Govs have won seven tournament titles, including six of the last 10 tournament championships.
Austin Peay has won the last two tournament titles. In 2009 it was the first No. 5 seed to win the tournament, defeating the fourth, first and second seeds. Last season, the Lady Govs won as the No. 3 seed, downing the sixth, second and first seeds.
Eight players on this season's roster were Lady Govs during its last two tournament titles: seniors Brooke Faulkner, Salem Richardson, Dalila Thomas and Darcie Warner, juniors Whitney Hanley, Jasmine Rayner and Nikki Talley and redshirt sophomore Neika Smith.