Sold Exclusively at Target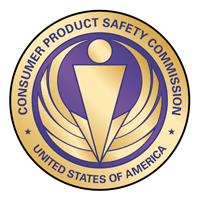 Washington, D.C. – The U.S. Consumer Product Safety Commission, in cooperation with the firm named below, today announced a voluntary recall of the following consumer product. Consumers should stop using recalled products immediately unless otherwise instructed.
It is illegal to resell or attempt to resell a recalled consumer product.
Product Information
Name of Product: Circo beaded door curtains
Units: 79,000
Manufacturer: FAB/Starpoint LLC, of New York, NY
Retailer: Target Corp., of Minneapolis, MN
Hazard: Strangulations can occur when a child plays with the beaded strands by wrapping them around their necks or by creating loops in which they can insert their heads. Also, children can get entangled in the strands, which are prone to entangle, just by running through the doorway.
Incidents/Injuries: The firm has received three reports of entanglement. In January 2009, a nine-year old girl was entangled while passing through the beads and nearly choked as she continued walking through the curtain. In January 2010, a six-year old girl in Reno, Nev. became entangled in the bead strands as she passed through them and suffered slight lacerations to her neck. In April 2010, a girl became entangled as the beads swung back behind her father who had walked through the beads before her. She was pulled off her feet and momentarily suspended before she regained her footing and she received scratches to her neck.
Description: The Circo pink door curtain is a set of two beaded door curtains, each of which is 12 inches wide and 72 inches long. The warnings on the packaging include: "Not for use in areas with children under 5 years of age. Plastic ornaments may pose strangulation or entanglement hazard. Not for use near cribs or playpens…". The photograph on the packaging shows an installed door curtain at the doorway of a girl's bedroom with pink wall color, child-themed lamp and clock. There is a CAUTION statement included in the installation instructions that states: "Do not tie bottom to form loops."
Sold exclusively at: Target stores nationwide and target.com from January 2009 through May 2010 for between $13.00 (at target.com) and $15.00 in stores.
Manufactured in: China
Remedy: Consumers should immediately take down the curtains and return them to any Target store for a full refund or store credit.
Consumer Contact: For additional information, contact Target at 800-440-0680 between 7:00am and 6:00pm CT Monday through Friday, or visit the firm's website at www.target.com
CPSC is still interested in receiving incident or injury reports that are either directly related to this product recall or involve a different hazard with the same product. Please tell us about it by visiting www.saferproducts.gov
About The U.S. Consumer Product Safety Commission
The U.S. Consumer Product Safety Commission is charged with protecting the public from unreasonable risks of injury or death from thousands of types of consumer products under the agency's jurisdiction. The CPSC is committed to protecting consumers and families from products that pose a fire, electrical, chemical, or mechanical hazard. The CPSC's work to ensure the safety of consumer products – such as toys, cribs, power tools, cigarette lighters, and household chemicals – contributed significantly to the decline in the rate of deaths and injuries associated with consumer products over the past 30 years.
To report a dangerous product or a product-related injury, call CPSC's Hotline at 800-638-2772 or CPSC's teletypewriter at 301-595-7054. To join a CPSC e-mail subscription list, please go to https://www.cpsc.gov/cpsclist.aspx. Consumers can obtain recall and general safety information by logging on to CPSC's Web site at www.cpsc.gov.