APSU Tennis

Clarksville, TN – Austin Peay State University tennis teams will see its spring break trip come to fruition with a pair of weekend matches against South Alabama and BYU Hawaii, Friday and Saturday, respectively.
The Govs (7-2) have won their last four matches, most recently picking up a 6-1 win against Kennesaw State, Monday. With sophomores Henrique Norbiato and Sean Bailey – a pair of 2010 All-OVC picks – providing leadership, Austin Peay has elevated its doubles play tremendously.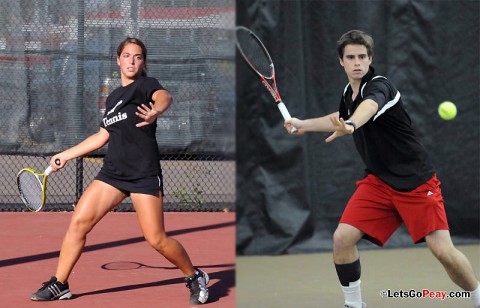 Norbiato and Bailey are 8-0 in the spring at No. 1 doubles, while freshman Jasmin Ademovic and Remi Calleja are 5-1 at No. 2. Sophomore John Storie and freshman Joao Pagan also are 5-2 at No.3, helping the Govs win all eight doubles points this season.
In singles play, Norbiato is 6-0 at No. 2 while Bailey is 6-1 at No. 3. Ademovic, meanwhile, is 5-2 at No.1 singles. Pagan has come on strong as of late, winning his last four matches including three wins at No. 4.
"The men are really to start to come along well," Tabet said. "Having Jasmin back at full strength is big for the top of the lineup and Joao is really starting to pick it up. These matches will allow us a chance to apply the strategy we've focused on during the week."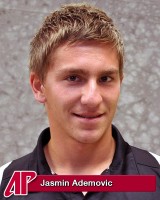 The Lady Govs (5-4) are seeking consistency after a 4-3 loss to Kennesaw State, Monday. With only five players in the lineup, making up two doubles teams, Austin Peay's women posses little room for error.
That margin was minimized even more with the doubles shuffle, pairing junior Vanja Tomic with freshman Kimberly Loo and sophomore Carolin Weikard with freshman Andra Corne. Those matchups have worked out well over the past two matches with the Lady Govs winning consecutive doubles points for the first time this season.
"This week has been good for us," Tabet said. "We were able to get some practice outdoors and spend a lot of time focusing on the mental part of the game. Having time to sit and talk about tennis will really pay off when we get on the court. We have to become more stable and balanced if we want to play our best tennis."
Singles play has shown even more vulnerabilities for the women. In the loss to Kennesaw State, Tomic and Weikard won at the top two singles, while Cornea, Loo and freshman Rachel Margolies dropped the bottom three matches. Back up to the loss against Southern Illinois where Austin Peay dropped the top two matches, but the three freshmen all won at the bottom. It's those type of issues Tabet hopes to have worked out heading into Friday's match.
South Alabama's men also are a team searching for answers. The singles lineup has been a revolving door, with more than five different doubles combinations used in their first six matches. The Lady Jaguars, meanwhile, are winless in their first three matches, including a 5-2 loss to McNeese State. They have not played since a February 26th loss to Lamar.
BYU Hawaii, a Division II member, will face the Govs and Lady Govs, Saturday, after taking on West Florida and Cameron (Okla.) during the week, in Pensacola, FL. The Seasider men are led by Rong Ma, who played in the NCAA D-II Small College National Tournament semifinals last Fall. The Seaside women are ranked No. 3 nationally in Division II, led by a pair of nationally-ranked freshmen in Yuan Jia and Elwen Li.