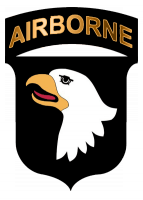 Fort Campbell, KY – In a flight Saturday evening, 210 soldiers of the 101st Combat Aviation Brigade returned home to Fort Campbell after a year deployed into the war zone of Afghanistan.
Family and friends of the returning soldiers had gathered together to give their loved ones a proper welcome home.
15 minutes before the flight arrived the family members were allowed to proceed outdoors to wait on for a chance to see the flight bearing their loved ones arrive.
At around 6:53pm the plane touched down to a chorus of cheers. The soldiers rapidly disembarked from the aircraft and proceeded to march to a assembly point near the hangers to drop off their gear so they could visit with their families. As they approached the waiting families soldiers eyes sought out those special people who were there waiting on them. As they saw them smiles broke out on their faces, their family members eyes shining brightly. Many of the soldiers waved.
Waiting for the soldiers was a basket full of yellow roses provided by the Navy Federal Credit Union to give the soldiers a gift for their loved ones. Each soldier selected one as they headed to form up for the march in.
As soon as they were all assembled, the doors to the hanger were opened and the 210 soldiers marched in before the cheering crowd.
An invocation was given by a military Chaplin Pete Stone, followed by comments from the Deputy Commander of the 101st Airborne Division Brig. Gen. Jeffery N. Colt. He welcomed the returning soldiers home.
The 101st Airborne Division Band played the Army song and the 101st Song, with many of the soldiers singing along. After the short ceremony it was time for some quality family time.
This was the first time many of these soldiers had seen their loved ones since early 2010, and it showed. How families reacted to their reunion differed wildly. Some kissed, while others stood in the middle of the tumult lost in each others company. There were tears of joy and pain. Some posed for pictures. For the family men it was the beginning of the process of sharing the stories gathered during the lost year of their lives.
When the 15 minutes was over the soldiers were formed back up. It was time for the soldiers to march out to the buses, as the families were given a last minute briefing on potential issues that may arise and how to best to handle them.
If you are interested in attending a Welcome Home Ceremony. Flights are scheduled through Friday. Plan to arrive at least 2 hours early. Enter at Gate 7, and follow the signs. Hope to see you there!
Photo Gallery