The Roxy Regional Theatre kicked off their annual production of William Shakespeare's works with an adaption of the classic Hamlet. The play is a story where a ghost and a prince meet and in the end everyone ends up mincemeat.
Written in the early 1600's the play is considered today to be the greatest play written in the English language. Containing many of the bards most memorable lines, Hamlet can sometimes be daunting to audiences. This is not the case with the Roxy production; thanks to some very strong acting and great delivery by the primary cast members. The Roxy's version of Hamlet is very easy to follow and quite enjoyable.
Three of the cast members really stand out. Each one had a moment on stage in which they shone, during which they delivered their lines with such emotion and with a dramatic flair that they owned the audience outright. They were Gregory Pember as Hamlet, Kendall Anne Thompson as Ophelia, and Keith Patrick McCoy as Claudius. They were backed up by an outstanding supporting cast featuring Leslie Green, Ryan Bowie, Ashton Crosby, Gili Getz, Ted Jones, Travis Kendrick, Brandon Meeks, Keith Panzarella and Joe Walsh.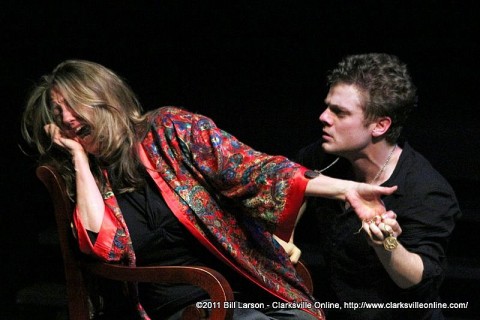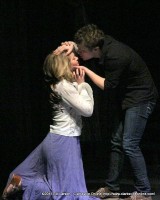 The actors costumes were of a contemporary style making the play more relevant for modern audiences, and which lets the audience concentrate more on the dialog and interaction between the actors.
The Roxy's stage utilization is always impressive. The flexibility they exhibit with the current stage makes me look forward to the wonders they will be able to create when they have the new Roxy Regional Center for the Arts completed.
In this instance they used a projector to create the effect of the ghost of Hamlet's father. The lighting was also very well done. At one point during the battlement scene through the creative use of lighting and smoke the audience were given the illusion that the gates of hell had opened to release the ghost of Hamlet's father.
All in all I quite easily recommend that you should get down to the Roxy to see this show!
Hamlet runs from March 11th through March 19th, playing Fridays and Saturdays at 8pm, with a 2pm matinée on Saturday, March 19. Tickets are $15 (adults) and $10 (ages 13 and under) and may be reserved online at www.roxyregionaltheatre.org, by phone at (931)645-7699, or at the theatre during regular box office hours (9am-2pm, weekdays).
Plot
Warning contains spoilers
Prince Hamlet of Denmark has been hastily summoned from his studies at Wittenberg to the Danish courts at Elsinore where he deeply mourns the recent death of his father, the king. Adding to his despair is the hasty remarriage of his mother, Gertrude, to his Uncle Claudius, who has seized the Danish throne.
Hamlet is informed by his trusted friend Horatio and night-watch soldiers that his father's ghost has appeared on the battlements of Elsinore castle. Hamlet attends the watch with them and the ghost appears, informing Hamlet that he was murdered by Claudius and imploring him to take revenge against Claudius.
At first, Hamlet is filled with murderous resolve, but soon vacillates between action and inaction, between sanity, madness and feigned madness. In his soliloquies, he expresses his disgust at his own inaction, also considering the possibilities, good and bad, of suicide. Feeling that Ophelia, whom he loves, is being used against him by her father, he repulses her.
Hamlet conceives a plot wherein he can satisfy himself of Claudius's guilt. He has a band of traveling players perform a play, graphically representing the crimes of his uncle. Claudius's violent reaction to the play convinces Hamlet of his guilt. Claudius storms from the play where he kneels in private prayer. Hamlet discovers him and resolves to kill him then and there, only to change his mind, fearing that Claudius would be sent to heaven if he were killed while in the act of repentance.
Hamlet bolts into his mother's bedroom, where, it seems to her, he is about to kill her. Instead, he accidentally kills Polonius, the father of Ophelia and Laertes, who is eavesdropping behind the draperies. The ghost of Hamlet's father appears to him again, but not to the queen, who becomes convinced of Hamlet's insanity as he carries on an animated conversation with a ghost that is invisible to her.
Claudius exiles Hamlet to England, seemingly for killing Polonius. He also sends secret orders with Hamlet's guards that Hamlet be executed when he arrives in England.
Confused and grief stricken by Hamlet's seeming indifference and the death of her father, Ophelia goes mad and drowns in a brook, even as word arrives that Hamlet has outwitted his guards, Rosencrantz and Guildenstern, by replacing his name with theirs on the execution orders, and is back in Denmark.
Meanwhile, Laertes, who like Hamlet must avenge his father's death, attempts to invade the castle. Claudius, however, succeeds in turning Laertes's wrath against Hamlet. They then plot to kill Hamlet with a poisoned sword in a supposedly friendly fencing match. In case that fails, Claudius will provide a poisoned drink.
The challenge arrives, and Hamlet accepts, supposing it to be a friendly contest. The two arrive in court, and Hamlet has scored two hits when his mother drinks to his health from the poisoned cup. Laertes, now desperate, catches Hamlet off guard and cuts him with the poisoned rapier. Hamlet's anger is aroused, and he manages to exchange swords with Laertes and to wound him in return. The queen dies, and Laertes confesses his treachery, revealing the entire plot. Hamlet runs Claudius through and forces him to drink the remaining poisoned wine. Hamlet's death completes the tragedy.
Photo Gallery
Poster