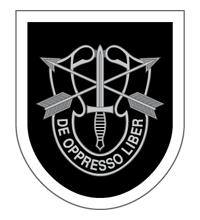 Fort Campbell, KY – On Monday April 4th, 2011 from 6:00pm to 8:00pm there will be an introduction to Special Forces class at the Family Resource Center (inside Gate 1). Learn about the history and capabilities of Special Forces, how to separate fact from fiction, plus a spouse panel!
This class is free and open to all Soldiers, spouses, other family members, civilians, friends and anyone else who is interested in learning about Special Forces.
Free child care is available. Call or e-mail Mary Ann Mitchell( ) by March 28th, 2011 to reserve a spot for your kids. The number is 931-233-1049. RSVP is not required for the class but would be greatly appreciated.
APSU Men's Golf

San Diego, CA –  A bad nine-hole stretch landed Austin Peay State University men's golf team in fifth place after 36 holes at San Francisco's Triumph at Pauma Valley, Monday.
"We played well the first round and we right in it," head coach Kirk Kayden said. "Our third nine holes really nailed us. We were 16-over par through that stretch and it hurt us bad. We had some good performances over the first 18 holes and that third nine wiped it all away."
«Read the rest of this article»

Clarksville, TN – Clarksville Police arrested Luis Dechoudens this afternoon. He was booked into the Montgomery County Jail at 8:14pm.
Dechoudens and Daniel Lee Hart were on the bank of the Cumberland River March 12th shooting a .22 caliber weapon at a passing barge. One victim was taken to Gateway Hospital with broken glass injuries.


Clarksville, TN – Clarksville Parks & Recreation would like to remind citizens that the Crow Community Center will be closed March 14th-27th for annual maintenance. The center will return to normal operating hours after March 27th.
For more details on this or other community center activities, please contact Parks and Recreation at 931-645-7476.
Clarksville, TN – The primary telephone numbers for the city's Building and Codes Department and the Parks and Recreation Department will be switched to a new system Wednesday morning, which could temporarily cause calls to not be completed to those departments.
Technicians from Information Systems will start the switch at 9:30am on Wednesday. In the past, such changeovers have taken less than 10 minutes, but the process might require as much as 30 minutes. Also some numbers for the Police Department's Professional Integrity Unit and Domestic Violence units
Residents should be aware that calls to these two departments may not reach their destination on Wednesday morning, and they should continue trying until their calls are answered.

Clarksville, TN – Luis Dechounder Espinal has been taken into custody by District 3 Officers. Further information on the case will be released Tuesday.
APSU Men's Football

Clarksville, TN – Fueled with an experienced roster, Austin Peay State University's football team will begin spring practice, 3:45pm, Tuesday, in Governors Stadium.
The Governors return 48 lettermen from a team that finished 2-9 a year ago. With so many lettermen returning it translates into 16 starters—eight offense and eight defense—back to provide experience.
"I am excited about what we have coming back," APSU coach Rick Christophel said. "We have more going this spring (than last year), except for one position, that is quarterback.
«Read the rest of this article»
Clarksville, TN – Clarksville Street Department will begin its annual Spring Clean Up on March 21st, when crews will pick up yard debris, leaves and limbs at city residents.
Yard debris, such as leaves, must be placed in biodegradable paper bags and placed near the street. Tree limbs must be in lengths of four feet or less. The Street Department will not pick up limbs pruned by a commercial company. The clean-up service will continue through April 8th.
In order to schedule a picked up, contact the Street Department at 931-645-7464 between 7:00am and 3:30pm Monday through Friday.
Washington, D.C. – Before you file your 2010 tax return, you should make sure you have all the needed documents including all your Forms W-2. You should receive a Form W-2, Wage and Tax Statement, from each of your employers.
Employers have until January 31st, 2011 to send you a 2010 Form W-2 earnings statement.
http://www.youtube.com/watch?v=VRRzUpBJLKI
«Read the rest of this article»
APSU Women's Volleyball

Clarksville, TN – Bill Egbert, who spent the past two seasons as an assistant coach at Mississippi, has been named Austin Peay State University's eighth volleyball coach, the athletics department announced, Monday. He replaces Haley Janicek who served as interim head coach during the 2010 season and led the Lady Govs to their first-ever NCAA Tournament appearance.
"We are excited Bill has chosen to lead our program," said Austin Peay assistant athletic director Cheryl Holt. "Throughout the interview process he proved to be an outstanding candidate. He has proven to be a competent coach who has helped bring success to every program he has worked with. We believe he's going to be a positive addition to our department."
«Read the rest of this article»