APSU Men's Football

Clarksville, TN – Fueled with an experienced roster, Austin Peay State University's football team will begin spring practice, 3:45pm, Tuesday, in Governors Stadium.
The Governors return 48 lettermen from a team that finished 2-9 a year ago. With so many lettermen returning it translates into 16 starters—eight offense and eight defense—back to provide experience.
"I am excited about what we have coming back," APSU coach Rick Christophel said. "We have more going this spring (than last year), except for one position, that is quarterback.
"I think we are doing it right. We are building this thing from the ground up. We will have six or seven seniors next year. If we can continue to build like that, we are setting a good foundation."
Youth was telling on the 2010 Governors, especially on defense, where they started three first-year freshmen, including both cornerbacks. But the youth was not relegated to just freshmen. APSU entered last fall season returning just three starters on defense, resulting in five sophomore also starting in 2010.
"We had 26 seniors two years ago and most of them were on the defensive side," Christophel said, "so we got caught a little bit there. Hopefully, we are now in a position where we won't be in caught like that again. That comes from depth."
On defense, the Governors focal point will be finding replacements for half their defensive front with the departure of senior tackle Antonio Faulkner and junior end Preston Keck, a former redshirt who will graduate in the spring.  However, rising sophomore Rip Rowan gained plenty of experience last fall behind Keck while Skyler Springfield, who started at nose tackle last season, and his backup Anthony Marion, have been moved to the defensive tackle while another experienced rising sophomore, Reese Bulmash, will take over at nose tackle.
On the offensive side the Governors lost three-year starter Kelvin Little at guard while James Barker, who had offseason knee surgery, also will not practice. The line will be anchored by senior tackle James Barker and junior center Tim Schmid. A plethora of young linemen, Ben Stansfield, Kyle Harrison, Chris Hartman, Jacob Langston and Preston Frye, all whom played a year ago, along with redshirts Nathan Sanders, Zac Amis and Gavin Willison should soften the blow of Little and Barker's absence along with the recent departure of offensive line coach Steve Haywood. A year ago, the Governors had to limit spring practice because of so few offensive line numbers.
The Governors also must replace seniors wide receivers Adrian Mines, Darryl Miller and T.C. Jennings. Senior Scott Thomas, juniors Devin Stark and Robert Lemon along with sophomore Kamron Johnson are back along with sophomore Terrence Oliver. Another sophomore, Tee Howell, who was forced to switch to safety last fall because of depth issues, has returned to wide out.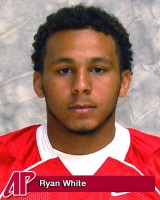 Tight end/H-back will be handled by Ashlon Adams and Preston Rouse.
The backfield will see senior Ryan White back at tailback. After rushing for more than 1,000 yards as a sophomore, he finished with 769 yards a year ago while splitting time with Terrence Holt. Now the focal point will be White, while junior Wesley Kitts, who has been bothered by injuries throughout his career, finally is healthy. In addition, a shorter version of Holt, Ean Pemberton (5-3, 150 pounds) along with Dontavious Brown, who began the 2010 season as a cornerback, will battle for meaningful playing time.  In addition, the reliable senior Jontamion Forrest is back at fullback along with Cody Tucker.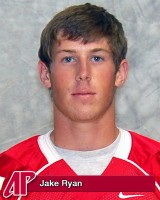 Now a junior, Jake Ryan, who completed 107 of 212 passes a year ago for 1,120 yards, is APSU's only returning quarterback. He missed the Govs final two games with a hand injury. Scott Thomas, a high school quarterback, will take some snaps at the position in the spring while waiting for incoming prospects Landon Curtis and Jacob Sexton arrival this fall.
The Governors will practice in shorts both Tuesday and Thursday before putting the pads on Friday. They also will practice in pads Sunday. The weekday practices will begin at 3:45pm while Sunday's practice will be 1:30pm.