APSU Men's Basketball

Boise, ID – On a night Austin Peay State University produced one of its most gutsy performances in recent memory, the Governors suffered perhaps its most gut-wrenching defeat of 2010-11.
Trailing 80-79, Boise State's La'Shard Anderson watched a driving layup crawl up the rim and drop in with 0.1 seconds left as Boise State defeated Austin Peay, 83-80, Tuesday night in first-round action of the College Basketball Invitational, presented by Zebra Pen.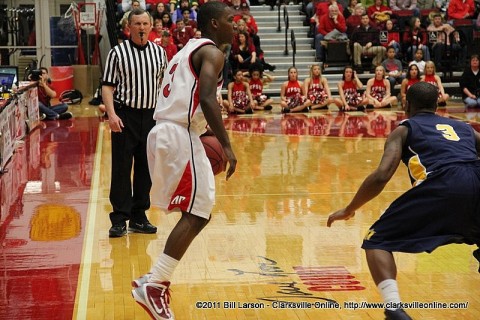 The final margin resulted when Austin Peay called a timeout after the layup-the Governors were out of timeouts, resulting in a technical foul and two Boise State free throws.
The Governors, playing without leading scorer TyShwan Edmondson, who suffered a torn posterior cruciate ligament during the Ohio Valley Conference tournament quarterfinals against Southeast Missouri, struggled finding their footing in the first half, committing nine turnovers -many unforced-leading to 13 Boise State points and the Govs trailing by 10 points on three different occasions.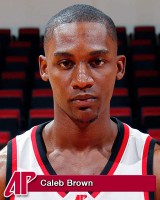 But Caleb Brown, in particular, and Josh Terry kept the Governors in the contest. APSU ended the half on a 9-0 run and trailed just 42-31 at intermission with Brown going a perfect 7-of-7  for 22 first-half points.
In the second half, the Governors took the lead early and fended off the Broncos through the first two media timeouts with five ties and nine lead changes as Terry scored 12 points to propel the Govs.  When Justin Blake nailed a three pointer with 7:35 left, it gave APSU a 69-67 lead.
That started a 12-4 Govs run, fueled by Will Triggs relentless work inside, who grabbed three rebounds  (two offensive) while scoring seven points as APSU lead, 78-71, with 4:50 left.
However, the Governors offense went cold, however. The Governors would go without a point over the next 4:44, although a questionable charging call by Brown prevented one APSU opportunity at the free-throw line with 2:46 left.
Boise State, meanwhile, turned to Anderson down the stretch. He made one of two free throws with 1:55 left to cut APSU's lead to one, 78-77. Then with 40 seconds left he made a short jumper with 39 seconds left that gave Boise State its first lead, 79-78, since the 9:06 mark of the half.
But Brown, who would finish with 24 points, made an acrobatic shot in the lane to give the Govs the lead, 80-79, with 5.9 seconds.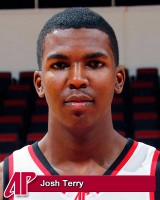 APSU, however, was unable to contain Anderson, a first-team All-Western Athletic Conference selection on the drive.
Terry finished with 24 points and 10 rebounds for his first career double-double while Justin Blake added 11, including a pair of three pointers. APSU dominated the glass , 42-25, as John Fraley grabbed 12 boards to go with Terry's 10. Triggs also had seven rebounds.
The Governors shot an impressive 30 of 57 (52.6 percent from the floor), including 16 of 28 in the first half.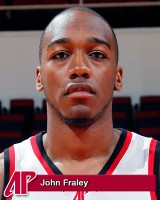 But turnovers-19 (compared to 8 for the Broncos)-proved to be the Govs undoing as it did down the season's stretch. A team that went 18 straight games with fewer turnovers than the opposition, finished the season with more turnovers than the opposition in 6 of the last 10 games.
Daequon Montreal led four Boise State players in double figures with 14 points while Jeff Elorriaga added 12 points on four three pointers.  Anderson, who had just two points at halftime, finished with 10.  
The Governors ended the season at 20-14 while Boise State, now 21-12, will play host to Evansville, Monday, in the tourney quarterfinals.