APSU Women's Softball

Clarksville, TN – Wanting to end its resent losing streak, the Austin Peay softball team came out swinging early Wednesday night at Lady Govs Field, as it scored six runs in the first inning on its way to a 6-1 victory over Belmont.
Austin Peay (4-16), playing for the first time at home since facing the same Belmont team back on February 20th, recorded six hits in the inning – including four that went for extra bases – as the Lady Govs took two-out-of-three games played against the Bruins this season.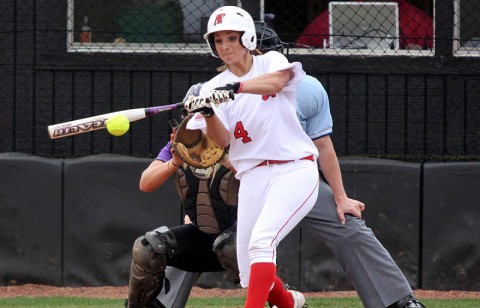 Freshman Lauren de Castro got things going right away for the Lady Govs, as she led off the inning with a double to center field, and moved to third when junior Amy Mills followed with a single to right field.
Freshman Jessica Holland came in to run for Mills and along with de Castro scored on a triple by senior Tiffany Smith, giving the Lady Govs a 2-0 lead.
Belmont (5-16) would record outs over the next two Lady Govs at bats, but freshman Caitlyn Anderson singled off the third baseman's glove – scoring junior Catie Cozart, who had reached on a fielder's choice – making it 3-0.
Red-shirt sophomore Jessica Ryan then followed with a triple into the right field corner scoring Anderson for a 4-0 lead.
Red-shirt sophomore Kristin Whitmire then walked, and she and Ryan would score on a triple to centerfield by senior Randal Davenport giving the Lady Govs a 6-0 lead.
That would be all that Austin Peay starter Morgan Brewer (2-7) would need, as the right-hander scattered six Belmont hits over seven inning of work, striking out five and walking five.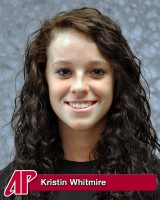 Even in the win there was one big loss for the Lady Govs, as Whitmire would have to leave the game in the top of the fourth inning, when she suffered a hand injury – that required a trip to the hospital and at least 10 stitches – in the top of the fourth inning when she was attempting to tag a Bruins base runner out on an attempted steal of second base.
Belmont would score its lone run in the top of the sixth inning when Mia Vierra led off the inning with a walk and scored when Hannah Irwin followed with a double to center field.