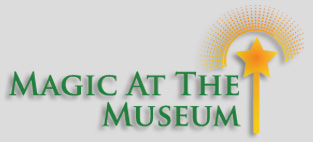 Clarksville, TN – The Customs House Museum becomes "magical", Saturday March 26th, as "Magic at the Museum" launches a series of magic shows for charity.  Better Homes and Garden real estate presents a wonderful afternoon of magic, featuring balloon tricks, face painting for the children, illusions and more. 
The amazing stage show of Russ Nowack, of Hocus Pocus Entertainment, will amaze and entertain children of all ages.  Magic at the Museum is a fund raiser for Manna Cafe Ministries, during their Manna March Madness campaign to help feed the poor and homeless in our community.
Donations of $15.00 for adults, and $10.00 for children under twelve, will get you tickets to an amazing afternoon of magic, plus a free tour of the museum. Tickets are available at Better Homes and Garden Real Estate, Customs House Museum, or online at www.magicatthemuseum.com.
Produced by Bonehead Promotions, Magic at the Museum is another exciting fund raising event that not only raises money and awareness, but provides new and exciting entertainment for the community. Hank Bonecutter, of Bonehead Promotions, says, "The Customs House Museum is a fabulous place for the entire family, and their state of the art auditorium is perfect for a magic show of this kind". "Russ Nowack is an amazing entertainer, and we hope the entire community can come and enjoy the day, and raise money for a great cause".

Doors will open at 2:00pm, and the show time is at 3:00pm. Get there early for a free tour of the museum, and "Magic by Roger" in the lobby, performing some of the most amazing balloon tricks you will ever see.  Face painting for the kids included.
Magic at the Museum promises to be a great event, with three more events scheduled for 2011. Don't be left out, get your tickets today.