Clarksville, TN – Ludie Amos is a retired school secretary, wife, mother, grandmother, great-grandmother. She is also a prize-winning doll maker, quilt-maker, tapestry artist, painter, sculptor, and American treasure. Her artistry and creativity are evident in everything she does.
A frequent contributor to the Customs House Museum in Clarksville, she also shows her work in Woodcuts Gallery and Framing, 1613 Jefferson Street, in Nashville. Mrs. Amos is currently showing her three-dimensional tapestries in "Stitched" at Customs House Museum. (See "You Should Have Been at Beauty Inside and Out," March 14th, 2011, clarksvilleonline.com).
Ludie Amos, called "Mornee" by her offspring (and one even addresses her as "Morning"), loves family and it shows in her work. Her dolls appear to be so real that you expect them to rise from their chairs and walk. She says that she doesn't talk to them but they communicate to her their names and what they want to wear while she's working on them. She designs not only the doll and its furniture, but makes the clothes and other objects necessary to tell their stories.
"My weakness is fabric," she admits. Every design she creates is a one-of-a-kind. "I know that people who keep making molds make more money, but I couldn't do it. Repetition doesn't excite me. I tried to make a cathedral windows quilt; I had all of one strip going, but I never have finished it. It just didn't excite me to keep on doing the same thing over and over."
Her quilt-makers have tiny handmade quilts that Ludie creates herself. She has also make a huge family tree quilt that has a leaf for every member of her family living up to 2003.
One of ten children, Ludie Penyman Amos was born in Georgia but moved soon to Cleveland, Ohio, where she lived until she married her husband, Herman, a member of the 101st Airborne Division. She was introduced to her future husband prior to his being deployed to Japan. They wrote letters until he returned and they were married. In 1959, she moved to Clarksville when Herman was deployed to Viet Nam. That way she could be nearer family in both Georgia and Ohio. By that time, their third child was only three months old. They now have not only their three children, but 11 grandchildren, and five great-grandchildren. All play a part in Ludie's busy life—and she has to make time somehow to create her artwork.
The day of our interview not only was her granddaughter, Adrienne, visiting along with a great-grandson who was playing in the yard. Three friends had just arrived from Cullman, Alabama, a stop on their way from New Orleans the day before. One of them was Juanita, the friend who had introduced Ludie and Herman many years ago. People were bustling in and out of Ludie's beautiful dining room as we talked.
The room was outlined with cabinets and tables filled with Ludie's dolls. A tapestry folding screen featured African women and two walls held paintings by Ludie. Huge flower arrangements graced the tables, and, of course, the designs were Ludie originals.
One of her dolls, "Miss Odessa," won first place in mixed media in the Rebel Doll Show in 1993, the year before Ludie retired from her position with Marshall Elementary at Fort Campbell. "I kept filling out retirement papers for teachers and one day I just felt a voice telling me it was time for me to fill out my own," she remembers. "I've never regretted it because soon after that some of my grandchildren needed me at home."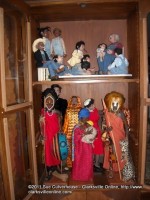 Ludie's dolls were first made from Styrofoam but she later moved to polymer clay that she bakes in her oven. She has to mix the skin tones herself. "Each doll is a figment of my imagination," she reveals. "The reason I have so many of them still with me is that I haven't finished their stories." She plans next to mix Styrofoam and clay, but she will have devise an intricate system because Styrofoam cannot be heated due to its toxic fumes.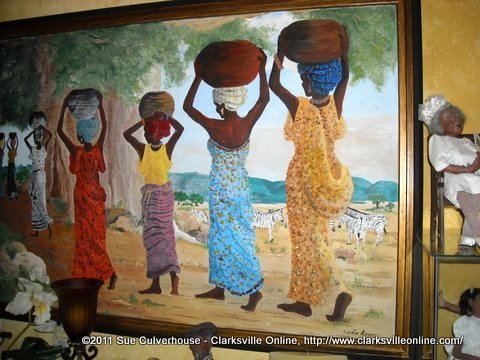 When she first worked on her wall tapestries, she used synthetic hair. On some of her more recent works, she made the hair on her sewing machine.
"I love art and especially painting," Ludie asserts. "If I have an idea, I want to try it. When I was a child, I always wanted to design. When I was playing with my dolls, I made their clothes to fit them. When ideas would come to me, I would love the fashion and later I would see that in other people's clothes. I would think to myself that I had already thought of that design!"
She works with two elements in mind: the concept and the technique. "Sometimes I can't find the right fabric, so I just grab a paintbrush. When you use the right technique, you find out you can manipulate the fabric to do anything you want to do. Take a square or rectangle of material and decide how to manipulate it. Should there be a fold? If so, use it and give it the element you want."
Her granddaughter, Adrienne, says, "We are so proud of her. I get so amazed at her work. I remember a Victorian dollhouse she made for us when we were children. It had all the furniture and everything in it. She also made all kinds of things for every holiday."
Ludie's work with Santa Clauses led her to make a drummer boy. "I realized that I could get a more elaborate look by using mixed media and found it really rewarding."
"I love the work," she tells all within hearing. "You get an idea and you work through the process. I'm a country girl, but actually I'm eclectic. I like a lot of things."
The work of Ludie Amos is unforgettable. Her uniqueness is characterized by her feel for humanity that shows in every way she reveals her creativity. If ever you see a piece of artwork by Ludie Amos, you know that you have seen the touch of a master's hand.
Photo Gallery
About Sue Freeman Culverhouse
Author of Tennessee Literary Luminaries: From Cormac McCarthy to Robert Penn Warren (The History Press, 2013) Sue Freeman Culverhouse has been a freelance writer for the past 36 years. Beginning in 1976, she published magazines articles in Americana, Historic Preservation, American Horticulturist, Flower and Garden, The Albemarle Magazine, and many others. Sue is the winner of two Virginia Press Awards in writing.

She moved to Springfield, Tennessee in 2003 with her sculptor husband, Bill a retired attorney. Sue has one daughter,  Susan Leigh Miller who teaches poetry and creative writing at Rutgers University.

Sue teaches music and writing at Watauga Elementary School in Ridgetop, Tennessee to approximately 500 students in kindergarten through fifth grade. She also publishes a literary magazine each year; all work in the magazine is written and illustrated by the students.

Sue writes "Uncommon Sense," a column in the Robertson County Times, which also appears on Clarksville Online. She is the author of "Seven keys to a sucessful life", which is  available on amazon.com and pubishamerica.com; this is a self-help book for all ages.

Web Site: http://culverhouseart.com/
Email:
Sections
Arts and Leisure
Topics
African-American artists, American Folk Art, Clarksville artists, Customs House Museum, Doll-making, Dolls, Folk Art, Ludie Amos, Marshall Elementary, Montgomery County artists, Polymer clay dolls, Quilt-making, Stitched exhibit, Tapestries, Tennessee folk art, Tennessee folk artists