APSU Men's Baseball

Murray, KY – Austin Peay's baseball team opens the 2011 Ohio Valley Conference regular-season race when it travels to Murray State for a three-game series, Saturday-Sunday, at Reagan Field. The Govs and Thoroughbreds get the conference race underway with a 1:00pm, Saturday doubleheader followed by a 1:00pm, Sunday contest.
The Govs (9-10) still are seeking to end a recent slide that has covered the last nine games and seen them post a 2-7 record in that span. Austin Peay's offense has been a particular concern, posting a .212 batting average and scoring just 2.9 runs per game in that span. The Govs pitching staff has stayed the course during the swoon – hovering around its season average in ERA while actually lowering the number of walks it has issued (4.85 per nine innings during the stretch).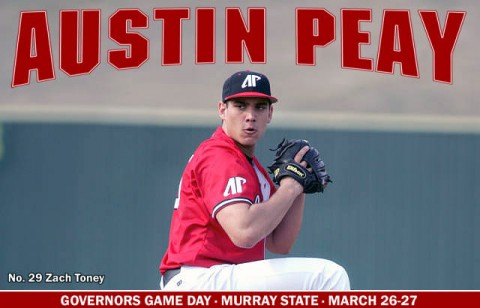 Freshman second baseman Jordan Hankins has cooled off slightly from his red-hot start – he batted .639 through his first 10 games – but still leads the Govs with a .449 batting average through 19 games.  Freshman outfielder Rolando Gautier continues to find base hits and brings an 18-game hit streak into this weekend's series while batting .380 for second on the team.
Behind that freshman duo, junior outfielder Michael Blanchard (.309), sophomore shortstop Reed Harper (.274) and sophomore first baseman John Hogan (.254) round out the Govs top five spots in batting average. Hogan also leads the team with three home runs and 17 RBI.
On the mound, the Govs again will turn to their trio of left handers, but will change the order for the opening OVC set. Junior Jeremy Dobbs (4-0) will get the nod for Saturday's opener after winning his last two starts, including a career-best 11-strikeout performance last weekend at Illinois State. Senior Jack Snodgrass (0-2) will slide into the No. 2 spot in the rotation, seeking to end a personal two-game losing streak. Junior Zach Toney (1-2) is penciled in to close out the weekend.
Murray State (8-12) brings a five-game losing streak into the conference-opening weekend. The Thoroughbreds scored 22 runs in a three-game series at Georgia State last weekend, but did not pick up a victory as they surrendered 42 runs. Murray State saw the slide reach five games with a 5-1 Tuesday loss to NAIA-member Mid-Continent.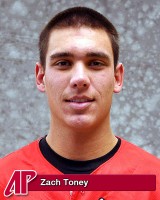 Sophomore shortstop Brandon Elliott leads Murray State with a .422 batting average while batting in its No. 2 spot. Junior catcher Jacob Rhodes (.329) and senior outfielder Zach Noonan (.319) also are hitting above .300 entering the weekend.
On the mound, the 'Breds turn to a trio of two-game winners for the weekend. Junior right-hander Tyler Beers (2-2) will move into the No. 1 spot this weekend after pitching No. 2 at Georgia State last weekend and allowing seven runs over 6.1 innings. Senior left-hander Jake Donze (2-1) slides into the No. 2 spot after starting the GSU series and surrendering eight runs over three innings. Junior southpaw Luke Shuemaker (2-3) will wrap up the weekend for the second consecutive week.
Notes From The Week
Austin Peay dropped a 5-2 contest at Western Kentucky, Tuesday – its third straight midweek loss. All the game's scoring came in the fourth and fifth innings. Junior third baseman Greg Bachman had his second-straight two-hit outing, finishing the WKU contest 2-for-3 with a two-run double in the fourth that accounted for all of APSU's scoring.
Austin Peay starter Alex Belew could not hold the lead, allowing the first three batters he faced in the bottom of the fourth to reach base without a hit before he was lifted. All three runners he left on base eventually scored as WKU followed a three-game sweep of Middle Tennessee with its victory against Austin Peay.
Coming Up: Middle Tennessee
Austin Peay and Middle Tennessee renew their rivalry with a Wednesday contest in Clarksville that will start a five-game homestand for the Govs. It will be the 194th meeting all-time in a series that dates back to 1937. Austin Peay won both meetings in the series last season, including an 11-5 decision in Clarksville.