APSU Track and Field

Tuscaloosa, AL – Austin Peay State University women's track and field team saw a well-rounded effort at the Alabama Relays, this weekend, hosted by the University of Alabama.
While a number of athletes recorded personal bests during the meet, head coach Doug Molnar was pleased with his team's overall performance.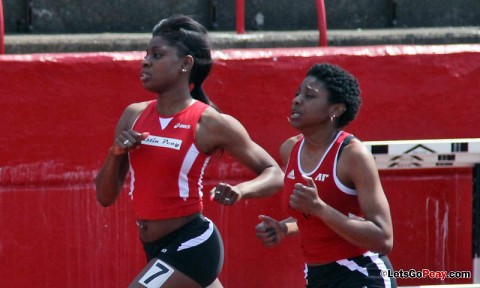 "The past few days went well," Molnar said. "I thought our 400- and 800-meter runners did well. We've got some kids that are really starting to get after it. Chiamaka Obi, Alyxandra Pinkston and Jasmine Scott all had good days in some windy conditions. Ashley Carson and Xiamar Richards had nice days too."
It was Obi who picked up the team's best finish, coming in third place in the 400-meter dash (56.14), and Scott finished 10th with a personal best 57.69. Carson had personal bests in the 100-meter dash (12.66) and the 400-meter hurdles (1:04.37).
Molnar also saw improved times in the sprints. The 100-meter dash saw three Lady Govs, led by Cenitra Hudson (12.37) and Carson, post personal bests. Hudson (25.60) and Carson (26.36) each had personal bests in the 200-meter dash as well.
The distance runners were paced again by two freshmen, Taelor Slaughter and Xiamar Richards. Slaughter had a 2:21.84 personal best in the 800-meter run, finishing ahead of senior Janelle Avery (2.22.11). Richards, meanwhile, improved four seconds on her 1500-meter run time for a 4:54.68 personal best.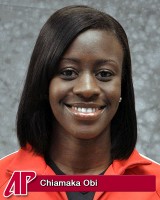 In the relays, the Lady Govs shaved enormous time in the 1600-meter relay. Jasmine Scott, Slaughter, Obi and freshman Alyx Pinkston had almost a 10 second improvement, with a season-best 3:54.70. The first distance medley of the outdoor season came in at 12:53.35.
With improved times coming each week, Molnar's team is set to speed it up even more when it hosts the Austin Peay Invitational, Saturday, at Governors Stadium. It will be the Lady Govs final home meet this season.