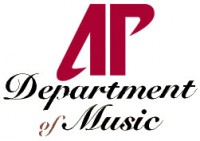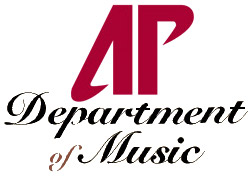 Clarksville, TN – Anyone familiar with Austin Peay State University music professor David Steinquest's annual Percussion Ensemble Halloween Concerts, with their strange mixture of music and mayhem, won't be surprised to learn that even the traditional spring performances he organizes are marked by a wild originality.
Audience members attending the free percussion ensemble concert at 7:30pm on March 31st in the Music/Mass Communication Building's Concert Hall will be treated to everything from sisters playing part of the score to "Schindler's List" to an orchestra performing the Pizzicato Polka using only plastic tubes known as boom-wackers.
"When you hit them, they sound a pitch," Steinquest said. He smiled slightly and added, "Because it's an orchestral kind of piece, and (APSU music professor) Greg Wolynec is our conductor for orchestra, I roped him into conducting this piece for a bunch of plastic tubes."
Steinquest is clearly enjoying himself, but he's serious about the program he's organized of powerful, diverse works centered on a subtle theme of pairs. Each piece has some hidden association within it, either to its sound, its presentation or to something maybe outside the audience's understanding.
"Not that I always have to have a theme, but it seems this one has kind of happened where it is a pairing of things," he said.
The evening opens with a pairing of the University Choir and the percussion ensemble performing the patriotic song, "America the Beautiful." That will be followed by the ensemble taking up F. Michael Combs' "Antiphon," which takes on the idea of "pairs" within the music itself.
"It's an all percussion piece that separates the sounds, where the music goes back and fourth," Steinquest said. "What we have are two completely separate groupings, and it's sort of like they're fighting back and forth. There's all this sonic movement across the stage."
Austin Peay State University graduate student Nelson Logan will conduct that piece. His presence as a second conductor adds another level to the night's "pairing" theme.
But perhaps the most visible example of this theme will come during the next work, a performance of "Remembrances" from John Williams' score of the film "Schindler's List." That piece will feature two soloists with a personal connection.
"What we're doing is actually pairing sisters," Steinquest said. "Alison McKelvey was a music major here on violin. She has since graduated and plays with the Nashville Symphony sometimes. Her sister, Clair Davis, is now a music major playing harp. I talked to Clair and got Clair to talk to Alison. So we have this pairing of two soloists with the ensemble, but also this cool thing that it's this sister act."
The Pizzicato Polka, performed with the plastic tubes, will follow that work. The remainder of the program will consist of equally eclectic works, including Robert Kelly's "Toccata for Marimba and Percussion Ensemble," Warren Benson's "Streams," and a pair of jazz works by Pat Metheny – "Farmer's Trust" and "Phase Dance."
The Percussion Ensemble consists of APSU students Holly Brown, Zach Brown, Alex Brunt, Allison Campbell, Andrea De Jesus, Andrew Dever, T.J. Lawrence, Nelson Logan, Kirby Newman, Kacee Sanders, Cody Satterwhite and Jacob Winters.
This free concert is open to the public. For more information, contact the APSU Department of Music at 931-221-7818.