Clarksville, TN – The City of Clarksville is excited to unveil its newest addition, the Fort Defiance Civil War Park and Interpretive Center. The park and related facilities, located at 120 Duncan Street, will open to the public on April 9th with activities planned the entire weekend in celebration of the Grand Opening.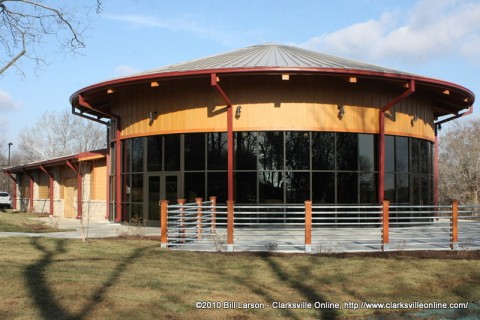 Fort Defiance, which overlooks the confluence of the Red and Cumberland Rivers, was a cornerstone of the Confederate defense of the area and, subsequently, an important part of the eventual Union occupation of Clarksville.  In 1982, Judge and Mrs. Sam Boaz, donated the property to the City of Clarksville.  In 2008, the City secured a $2.2 million federal grant that was combined with local funding and the process of construction of the interpretive center and walking trails began. The more than 1,500-square-foot Center features exhibits about the local area and the fort during the Civil War.
Please join us at the Fort Defiance Interpretive Center from 10:00am to 8:00pm April 9th, and from 10:00am to 5:00pm on April 10th, for the Grand Opening Celebration. All ages are welcome to come out and explore the Center which features several multi-media interpretive exhibits and to learn about the fascinating chain of events that unfolded on this very site during the Civil War and Reconstruction. Visitors can observe living history stations located around the fort and watch as cannons are fired periodically. This event is free and open to the public.
Because of limited parking, all visitors to this event must park at the Two Rivers Business Center, at 690 Riverside Drive (old Convergys lot), then ride a shuttle to the park. Each day the shuttle service will begin 15 minutes prior to the event's start time and run continuously every 15 minutes until the end of the event. Last shuttle will run 15 minutes after the conclusion.
For complete details about the Fort Defiance Interpretive Center and the Grand Opening, please visit us online at www.cityofclarksville.com/parks&rec/ or call 931-645-7476.