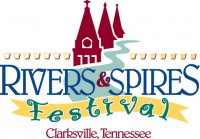 Clarksville, TN – After a very successful first year, Aspire to Stardom is back with another talent filled show.
After hosting several rounds of auditions in February, the preliminary judges narrowed the 1,100 applicants down to just 42. Safe to say that was a hard decision, but it's sure to lend itself to a group of extremely talented young people. The talent show is only open to people under the age of 20.
Aspire to Stardom was an event born out of the need to let the youth of the community have their talents be seen and heard.  The entire event was free to those auditioning; there is no charge to audition or perform at the festival which makes it an even more appealing platform for people who want to get their talents heard. This year the show will be Friday, April 15th from 5:00pm to 9:30pm on the Fun Zone Stage at the Rivers and Spires Festival, Downtown Clarksville.
Those performing range from singers to dancers and even a very impressive nine-year-old fiddle player. These talented young people come from all over the state of Tennessee to get their shot at stardom. And, the team at Gateway Realty and Investment Group/A + Property Management, sponsors of this event, wanted to make sure the right people were sitting at the judges table to see and hear all these kids have to offer.
"We are so excited to be a part of this and have the chance to display the kind of talent this group of young people has to bring to the table," said Kelly Maselli of Gateway Realty and Investment Group/A + Property Management.
Maselli also went on to say that this year there is an incentive for the person who comes in first in the talent show. Daymar Institute has given Aspire to Stardom $2,500 cash to give away as the top prize. She was very grateful to Daymar for their generosity and support of the talent show and knows that incentives such as this will help the show grow more each year.
Along with the potential of a cash prize, there is also the chance of being discovered and signed by one of the judges at this year's show. The impressive lineup of judges also serves as the talent scouts for Aspire to Stardom. In this panel are well respected actors, musicians, agents and photographers; industry leaders that know what people in the entertainment business are looking for.
"I think 'Aspire to Stardom' is a great opportunity and a great platform for young talent to showcase their singing, dancing and rapping abilities to a large diversified audience and being noticed by talent scouts to take them to the next level.  This can lead to exciting and wonderful opportunities to reaching their goal in the industry.  The rewards can be unlimited," said Paula Smith, a returning Aspire to Stardom judge.
The 2011 Judges
Paula Smith hails from Fayetteville, TN and has had a successful career as a talent scout and casting consultant for the modeling and film industries. Paula served as consultant to Michael Cole, Avery Cole, and Nadia Cole of "America's Got Talent – The Voices Of Glory."
The next judge started playing the drums at the age of nine and by the time he was 15 he had already toured Europe and was working profesionally as a musician in nightclubs. Paul Cooper is no stranger to the music business having had the opportunity to work with some of the greats such as Alice Cooper, Kiss, Ratt, Warrant, Hugh McDonald, Kip Winger, Randy Jackson, China Rain, Jimmy Douglas and Beau Hill. He is currently playing an average of 90 shows a year with KASHMIR, one of the nation's top Led Zeppelin shows, but has made the time to come to Rivers and Spires and be a part of the Aspire to Stardom Talent Show.
With over 20 years of experience in the entertainment industry, Aris Golemi with Xcel Talent Agency has garnered an excellent reputation among his peers. He currently represents models, actors, dancers and choreographers from around the country. He began his career as a choreographer in Albania and eventually moved the United States where he has been recognized on multiple occasions for his talent.  He was selected in 2010 as a celebrity judge on the MTV2 show "Sprite Step Off".
Kelly Higgins is a native Tennessean who graduated from MTSU with a degree in Liberal Arts. She then moved to Boston where she worked in marketing and sales for the Fashion Industry for three years. To further pursue her career in the field of fashion, Higgins moved to Italy and became fluent in Italian. She has walked the runway all over the world and is in the know about what the designers are looking for in their models. Now back in the States, Higgins lives Nashville and she works as an Artist Representative for HMG Nashville.
Nationally recognized photographer Aaron Crisler will serve on the panel of judges at this year's show. Originally from Atlanta, Crisler is a publicist and photographer with The Judy Nelon Group.  He moved to Nashville in 2005 and quickly became one of Nashville's leading celebrity photographers.  Aaron's photographs have appeared in People, Rolling Stone, Billboard, Country Weekly and countless other magazines, newspapers and TV shows. As a publicist, Aaron works with The Judy Nelon Group successfully placing country, bluegrass and gospel clients in media outlets throughout the country.
With all of the opportunities that Aspire to Stardom has to offer, it is no wonder so many turned out to audition. With a show that is sure not to disappoint, be at the Fun Zone Stage on Friday night of the festival. This could be your chance to see the up and coming stars of tomorrow and say, I remember when I saw them at the Aspire to Stardom talent show during the 2011 Rivers and Spires Festival. To see a full line up of those performing, visit www.riversandspires.com.
The 9th annual Rivers & Spires Festival will be held April 14th-16th, 2011 in downtown Clarksville. This event has six stages of entertainment with over 100 entertainers performing all three days. From children's activities, arts & crafts, car shows, military exhibits, jazz and wine, shopping and so much more this is truly an event for the whole family. Admission to the festival is free including all games, activities and concerts.
Visit us at www.riversandspires.com or follow us on Facebook and Twitter @riversandspires.