APSU Men's Football

Clarksville, TN – A pair of big offensive passing plays highlighted Austin Peay State University's second football scrimmage, held Saturday morning at Morgan Brothers Soccer Field.
In fact, junior quarterback Jake Ryan's first pass, a quick out pattern to the right sideline to junior starting receiver Devin Stark turned into a 59-yard gain to the 11-yard line. Three plays later Ryan White scored the scrimmage's first TD, a two-yard run.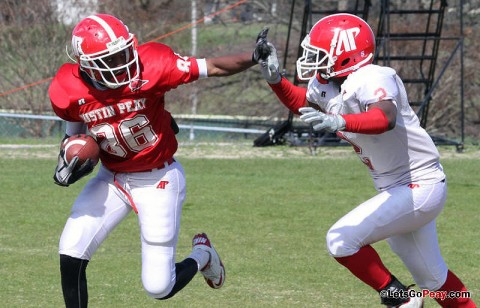 That first pass to Stark set the tone for Ryan, who completed 11 of 18 passes for 223 yards. He later passed 60 yards for a score—the second of two scrimmage TDs on the day—to junior receiver Robert Lemon. He also had six other passes for more than 10 yards while seeing at least three other potentially catchable passes not handled.
"Jake has done it for three days in a row—he is starting to show consistency," APSU coach Rick Christophel said. "That is what I am excited about. The light has started to come on. We are doing some things differently, trying to take advantage of things he does well. We are starting to evolve the offense, trying to get it into our playmakers hands more.
"The improvement up front and the depth we now have there has helped allowed us to do that."
From a defensive standpoint, the front six again showed improvement. The Governors finished with 167 yards rushing, but needed 50 carries to do it. The Govs were able to penetrate APSU's backfield to record nine runs for losses during the 75-play scrimmage.
"Again, it is consistency," Christophel said. "As I told them after practices, we played in spurts. At times we did a really good job stopping the run, but then we would give up a 10-to-15-to-200 yard runs. We can't do that. I can live with the occasional five-to-six yard run, but we can't up the big yardage ones."
The defensive front recovered a pair of fumbles but the lone interception, a 40-yarder returned for a score by safety Jonathan Smith, was called back because of a penalty.
"I think we are improving every day in practice," Christophel said. "Offensively, today, I thought Jake did a good job of taking care of the football.  I thought we made some plays. We did have five or six penalties and we put the ball on the ground twice—we can't have that.
"On the defensive side, we gave up too many big plays. I told them afterward I thought we did a decent job of stopping the run and the pass, but we have to eliminate those big plays. But all in all, we are getting better on the defensive side."
From a statistical standpoint, White finished with 4 rushes for 26 yards and one TD. Sophomore Dontavious Brown had 14 carries for 53 yards, including an impressive 15-yard run early in the scrimmage. Redshirt freshman Ean Pemberton had 17 carries for 52, including pair of 12-yard rushes late in the scrimmage. Junior Wesley Kitts ended with seven rushes for 18 yards.
Receiving-wise, Stark ended with three catches for 80 yards while Lemon had three receptions for 79 yards. Tee Howell ended up with two catches as did tight end Ashlon Adams.
The Governors will wrap up spring practice this week, with a short workout on Sunday before practicing both Tuesday and Thursday afternoon. The week with end Friday with a half practice/half scrimmage, beginning at 4:30pm. As a result, there will be no Red-White Game this spring.