Written by By U.S. Army Sgt. Scott Davis
Regional Command – East Public Affairs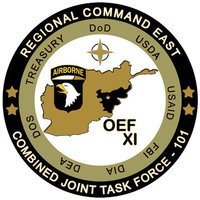 Bagram Airfield, Afghanistan – The Sergeant Audie Murphy Club increased its membership when Afghan National Army 201st Corps Command Sgt. Maj. Ziaulhaq Amanzai was inducted at Forward Operating Base Gamberi in Laghman Province March 30th.
U.S. Army Command Sgt. Maj. Scott Schroeder, Combined Joint Task Force-101 and Regional Command – East command sergeant major, gave a quick speech before presented Amanzai with his award.
"Sgt. Audie Murphy was one of America's greatest combat heroes. In recognition of his service, our Army has developed this award to recognize noncommissioned officers who have made significant contributions to the NCO corps, have displayed leadership and have maintained professionalism," said Schroeder, a Fort Campbell, KY. resident. 
Amanzai expressed his appreciation in receiving the prestigious award.
"I feel really special," said Amanzai. "I'm proud to receive this award. I think most NCOs dream of receiving this award and I'm honored to have been selected."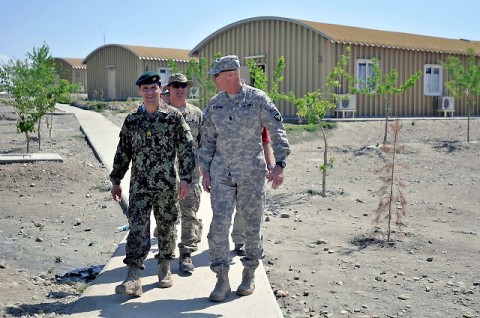 Amanzai joined the Afghan Army in 2002 and has had a commendable career to date.
"I joined in December of 2002 to serve my country and my countrymen," Amanzai said. "I went to the NCO course, graduated and became an instructor for that course. I then moved on to become the chief instructor for the combat leader course. In 2005, I became a sergeant major and went to the U.S. Army Sergeants Major Academy, graduated from there and returned to Afghanistan to become the 201st Corps command sergeant major."
Amanzai gave advice to NCOs and future NCOs on what they should be constantly focused on and how to receive an award like the Sgt. Audie Murphy Award.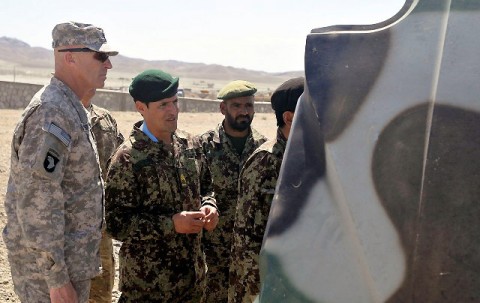 "Noncommissioned officers are the backbone of any army. They have two main duties: enforcing discipline and law," said Amanzai. "Serve your country proudly. Follow your commanders and take care of your soldiers."
The Afghan command sergeant major simply stated his future career plans, which are sure to be challenging in the years to come.
"I will continue to serve my country. I want to help rebuild Afghanistan and the new army," said Amanzai.