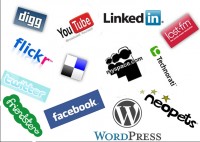 Social media and electronic communication have not changed my views on freedom of information, free speech and open communication. The principles are unchanged from Ben Franklin hand set type to iPhone tweets.
I came of age in the early 1970s. Bob Woodward and Carl Bernstein were champions. Rolling Stone first caught my attention with a caricature of my home-state senator who wanted to be president riding on a merry-go-round. I might on occasion have worn a peace symbol with my dog tags beneath my solid green fatigues.
I have degrees in mass communications, political science and journalism with a master's thesis about video access to courtrooms.
I say all that to explain my foundation in communication law and freedom of speech. When it comes to emails, tweets, blogs, and status updates, the principles are unaltered.
There are people on my Facebook list who are irresponsible in their diatribes against the government. There is the former senator/actor from my state who also wanted to be president who regularly spews gutless and useless comments that would be better suited for a late night comedian. I keep him on Facebook just to see what senseless bile he is going to regurgitate next.
All of these wags have their right to say what they will just as in all the days of print freedom for the past 200 years of U.S. history. They also are obligated to adhere to the laws regarding truth, libel, slander and fairness.
I chuckle at the public figure who, with red-faced anger, recently said I slandered him in an electronic communication and demanded an apology. I gave him his apology simply to calm him down but was amused at his concept of slander.
Then, there are those who want to control and set rules for emails, blogs and tweets. Communication is more open today than ever before. The days of controlling communication are over – for everyone, pretty much world wide. Just ask Muammar Gaddafi and Hosni Mubarak. I'm pretty sure they understand the days of control are gone.