Montgomery County, TN – Spraying but not getting the level of pest control you want? Looking for ways to cut costs but not results?
Join us for an Airblast Sprayer Workshop: Optimizing Your Sprayer Setup for Better Coverage, Better Pest Control, and Greater Savings on May 4th!
This workshop features two of the nation's experts on sprayer technology, Dr. Heping Zhu, USDA-ARS and Randy Zondag, OSU-Lake County Extension. They have been training nursery producers on airblast technology around the nation and internationally.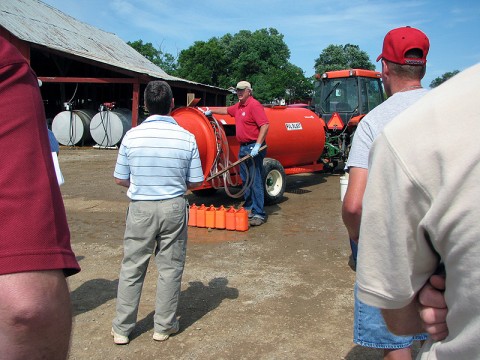 Learn how to calibrate airblast sprayers, get tips on maximizing your nozzle disc and whirl selections and positioning, see firsthand how to monitor and refine coverage, canopy penetration and coverage throughout a block, and achieve the optimum spray droplet size and distribution specific to insect and disease control.
This workshop is essential for anyone battling difficult to control pests such as scale. Growers in other states have reduced pesticide costs, eliminated wasted pesticides, and refined coverage to enhance control. This is a hands-on program where you will see for yourself the difference that a few steps can make in your bottom line.
The workshop is being hosted by David Greene, Pro-Gro Nursery, McMinnville, TN.  Two pesticide points are offered Sprayer Saavy- Optimizing your sprayer flyer draft bin each of the following categories:  C1, C2, C3, C10, and C12.
Registration required.
Sprayer Saavy- Optimizing your sprayer Flyer attachment provides additional details of how to register, directions to the workshop and make the payment. We must know how much food to order.
For more information contact Mark Halcomb, Warren County Extension mhalcomb@utk.edu 931-473-8484.
Photos from Last Year's Workshop