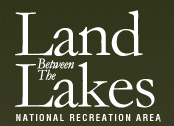 Golden Pond, KY – Land Between The Lakes (LBL) National Recreation Area recently planted 50 American chestnut seeds in the northern end of LBL near Woodlands Nature Station. These native seeds were donated by the American Chestnut Cooperators' Foundation; some of which are the offspring of American chestnuts previously planted in LBL. 
The American chestnut was once one of the most important trees in the eastern United States; occupying about 25 percent of the hardwood canopy in eastern forests. By the early 1950s an exotic fungus from Asia, known as the chestnut blight, had killed approximately 4 billion American chestnuts. The disease nearly eliminated the species all across the eastern United States, including in LBL's forests. 
In 2002, LBL staff and volunteers planted 159 American chestnuts; of those, 23 trees are still alive.  LBL Biomass Forester, Jaime Hernandez said, "LBL staff employed several tactics to increase the survival rate of the latest batch of chestnut seeds.  We added wood chip mulch around each planting to retain moisture and discourage weeds from growing.  We also placed an aluminum cone and wire fencing around each seed to prevent them from being eaten by rodents, rabbits, deer, and other animals."
"Restoration of native trees is a major goal of the U.S. Forest Service," added Hernandez. "Forests across the Southern and Eastern Regions are working to restore the American chestnut. The goal of these projects is to help re-introduce a keystone species back into its native range and help restore a historic component of eastern U.S. forests." 
About Land Between The Lakes
Land Between The Lakes is managed by the Forest Service, U.S. Department of Agriculture, in partnership with "Friends of LBL," to provide public lands outdoor recreation and environmental education.  We encourage visitors to review our website at www.lbl.org each season, and throughout the season, for our Calendar of Events, maps, updates on programs and policies, safety information, and temporary trail and road closures.
Sections
News
Topics
Friends of LBL, Golden Pond KY, Land Between the Lakes National Recreation Area, U.S. Department of Agriculture, U.S. Forest Service, Woodlands Nature Station