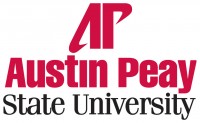 Clarksville, TN – Dr. Joseph B. Trahern Jr. was presented the 2011 Tennessee Board of Regents Chancellor's Award of Excellence in Philanthropy during the 53rd Annual Tower Club Dinner meeting at Austin Peay State University, held April 1st.

APSU President Tim Hall, who nominated Trahern for the award, said, "Though Dr. Trahern never taught at APSU, our institution has been fortunate enough to be the recipient of his extreme generosity. As a native of Clarksville, he understands the important role APSU plays in this community."

The award, presented by the Tennessee Board of Regents each year to individuals, companies or organizations, is based on the generous giving of resources to a TBR institution and outstanding volunteer efforts in raising money for the institution.

Trahern is a member of the APSU Acuff Circle of Excellence and a supporter of the APSU Woodward Library Society. He previously donated two pieces of rare William Edmonson sculptures to the University, which now join a piece that was given by his parents. His gift brings the value of that collection to nearly $1 million.

Trahern was also the lead donor to begin the Trahern project. That building was named in honor of his mother, Margaret Elwyn Trahern, a former APSU English professor and, in 1921, the first woman to receive a degree from our University.

He also funded to have an art lecture hall named in honor of his late wife, Marjorie, and to date his total giving to APSU totals around half a million dollars.

Trahern grew up around APSU, where his mother taught and, along with his father, was a devoted patron of the arts in Clarksville. But when it came time to attend college, he opted to go south to Vanderbilt where he earned both his. B.A. and his M.A. From there, he traveled north to Princeton University where, in 1963, he graduated with his Ph.D.

Trahern then embarked on a stellar academic career. He served as a professor of English as the University of Illinois at Urbana-Champaign for 15 years. He worked as the executive secretary and later as the acting head of that school's English Department.

In 1978, he returned to his home state and took up the position of Professor of English at the University of Tennessee. While in Knoxville, he worked as Head of the Department of English, Executive Assistant to the Chancellor and Acting Vice Chancellor of Academic Affairs.

During his illustrious career, Trahern has served as president of the local chapter of the Phi Beta Kappa academic honor society, was named a Fulbright Fellow to Worcester College in Oxford, received a University of Tennessee Graduate School Research Grant and was awarded the highly esteemed title of Macebearer at that University.

He has given lectures at Princeton University, the University of Arizona and the University of Rochester, among others. He was the editor of "Year's Work in Old English Studies," co-general editor of the series "Basic Readings on Anglo-Saxon England," on the advisory council and council chair for the Princeton University English Department, an executive committee member of the Modern Language Association, on the advisory board of the International Society of Anglo-Saxonists and on the Haskins Medal Committee for the Medieval Academy of America.



Sections
News
Topics
APSU, APSU Acuff Circle of Excellence, APSU Woodward Library Society, Austin Peay State University, Charles Booth, Clarksville TN, Joesph B. Trahern Jr, Knoxville TN, Margaret Elwyn Trahern, Phi Beta Kappa, Princeton University, Tennessee Board of Regents Chancellor's Award of Excellence in Philanthropy, Tim Hall, Tower club Dinner, University of Tennessee, Vanderbilt University, William Edmonson