APSU Women's Golf

Clarksville, TN – Austin Peay State University women's golf team will play in its final regular-season tournament this weekend in the 54-hole EKU Lady Colonel Classic, Saturday and Sunday, at the Arlington Golf Course.
The tourney will begin with an 8:30am shotgun start each day on the par-72, 5,801-yard layout. The 13-team field will represent 12 schools (host Eastern Kentucky will play two teams), including six Ohio Valley Conference members. In addition to APSU and EKU, Morehead State, Murray State, Tennessee State and Tennessee Tech will participate.  Arkansas State, Bowling Green, Marshall, Ohio, Southern Illinois and Toledo also will be competing.
The tourney is extremely important to the Lady Govs and head coach Sara Robson. With this being the final event prior to the OVC championship, April 21st-23rd, at GreyStone Golf Club in Dickson, much is still up in the air about which five players will comprise the championship-competing group. Returning OVC Player of the Year Chelsea Harris is a given but Robson will analyze the entire campaign for the remaining four.
"With it being a 54-hole tournament—and we hope we can get in all 54 holes—this will be a big help in finalize our top five for OVCs," Robson said. "We will look at the scores from the fall and spring as a whole and will analyze the numbers from fall and spring separately to help determine the group we will take to conference.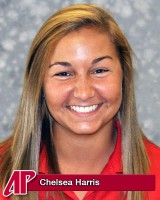 "In all honesty, all eight of our players have played well at times and all eight of them have struggled at other times."
In fact, all eight players will participate this weekend, five (Harris, freshman Rachel Deaton, sophomore Holly Batey, senior Catie Tucker and senior Ashley Wathen) comprising the Lady Govs team while three others—redshirt freshman Tabitha Beard, freshman Tala Mumford and junior Ashley Averitt—will  compete as individuals.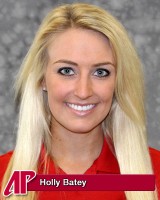 "I am going to watch a lot of golf this weekend," Robson said. "Normally, I station myself at a couple of holes so I can talk to and see each one of them as they come through. I am going to do that again during the first round, but after that I am going to be seeing a lot of golf, seeing who is hitting the ball well and who is playing well. That will help me in making my decisions. I can do that here because most of our girls have played this course a lot and really like this course."
Despite watching her team battle difficult weather conditions much of the spring—the Lady Govs were able to play only 18 holes of the scheduled 36 in Belmont's Invitational earlier this week, Robson has been pleased with her team's progress and is confident they will play well this weekend.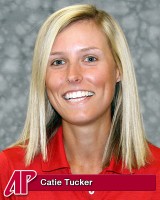 "All our girls have been hitting the ball well," Robson said. "I told our players, with the way they have been hitting the ball and the fact they like playing this course, there is no reason we can't have all eight of them finish in the Top 20 this weekend.
"It's a matter of being focused, staying patient and playing good golf."