APSU Women's Softball

Clarksville, TN – Lady Govs Softball Field officially will be named Cheryl Holt Field, Saturday, to culminate a weekend of activities surrounding the inaugural Celebration of Women's Athletics at Austin Peay State University.  
The field dedication will take place 12:30pm, Saturday, prior to the Lady Govs' 1:00pm softball doubleheader with Murray State.
On Friday, the University will hold the Celebration of Women's Athletics Dinner, 6:30pm, in the Dunn Center, with former Lady Govs coach Linn Dunn serving as guest speaker. Dunn, who coached multiple sports at APSU, currently serves as head coach for the WNBA Indiana Fever.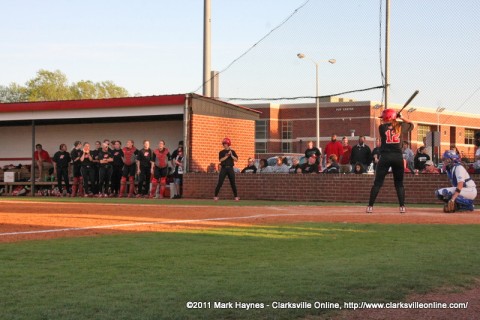 On Saturday, a 9:00am, Walk to Celebrate Women's Athletics and softball tailgate brunch will precede the dedication ceremonies.
"Cheryl is very deserving of an honor such as this," said APSU Athletics Director Dave Loos, who has worked with Holt since his arrival at APSU in 1990. "She has spent many hours and worked very hard to improve women's athletics at Austin Peay and the APSU athletics department as a whole.  Her dedication to the University, the athletic department and the student-athletes makes this recognition well-deserved." 
Holt, who was Austin Peay's head volleyball coach for 23 years, has been serving in the University's athletics administration since 1997, when Loos was named Athletics Director. She took over as Senior Woman Administrator at that time and then became Assistant Athletics Director after she retired from coaching in 2003.
"This is one of the proudest moments of my life and at the same time one of the most humbling as well," said Holt.  "I am deeply grateful to those responsible for bestowing such an honor on me, including all those student-athletes that helped make this possible. I truly appreciate the support from the University as well as from my family and friends who afforded me the opportunity to teach and coach student-athletes." 
Holt amassed 363 victories as APSU head volleyball coach-most of her victories came in her final 13 years as coach when more emphasis was placed on women's sports, but in particular, volleyball-and 499 overall Division I victories in 28 years.
Holt came to Clarksville and Austin Peay in 1982-but it was not the first time she was at the school. After earning her bachelor's degree from Ohio State in 1969, she came to APSU for her master's degree.
Holt's coaching career began at Austin Peay during an era when women's sports coaches were asked to coach multiple sports. A four-time OVC Volleyball Coach of the Year, she also coached women's tennis (head coach from 1983-85) while also serving as assistant women's basketball coach.
When Austin Peay initiated the softball program in 1986, then-athletics director Bob Brooks turned to Holt to initiate the program. Using mostly student-athletes from other teams like women's basketball and volleyball, Holt was able to field a team for the 1986 season, playing their games at city-owned Edith Pettus Park. She coached the team again in 1987 before turning over the reins to Cheri Kempf, the program's first fulltime head coach.
Now 25 years later, the program has two fulltime coaches and a part-time assistant and all their games are playing on a campus facility that will bear Holt's name.
About Cheryl Holt

Education
Ohio State, B.A., 1969
Austin Peay, M.A., 1972
Head Coach
Volleyball (499 victories)
University of Mississippi, 1977
Miami (FL), 1978-81
Austin Peay, 1982-2003
Softball (program's first coach)
Austin Peay, 1986-87
Women's Tennis
Austin Peay, 1983-85
Athletic Administration
Senior Woman Administrator
Austin Peay, 1997-
Assistant Athletics Director
Austin Peay, 2003-