Where you learn about your community, and all that we are!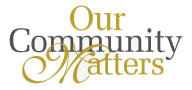 I am thrilled with the opportunity to write about community in this new column "Our Community Matters." As I sat down to write, I thought of many great topics that I could choose. I kept coming back to how important it is to me to feel connected to my community, to feel that I am a part of making it a better place; to feel I am participating and grounded- that I have roots here. Then it struck me and I realized that the feeling of being a part of something we call community – well, it's a soul thing. So I thought it would be interesting to do a survey modeled after the Knight Foundation's "Soul of the Community" Project. The survey helps cities discover what really attaches people to their community. Is it safe streets, great schools, affordable housing, health care access or is it something deeper that draws people to a certain place. What makes them want to put down roots and build a life there?
I hope, like other cities participating in the Knight Survey, that we too will discover what really attaches us to our community; and I hope this knowledge sparks some new conversations, collaborations and partnerships. When citizens feel more connected and attached to their community at a deeper level, it builds stronger cities and sustainable futures.
You will soon be able to take action and complete a "Soul of the Community" survey, we will provide more information on how to participate very soon.
"Our Community Matters" Connects!
Solving community issues and challenges requires the talents and resources of all the members of a community. You probably have heard the song written by Carol King, "You've Got to Have Friends". The lyrics ask "are you there to help, winter, spring, summer and fall? " How would you answer that question? A community must have friends; friends who come together with ideas, goodwill, resources and time; friends who help in good times and downtimes. Friends make our community and world a better place for everyone, and each of us has a role to play. It is our choice what role that will be.
Ongoing Efforts!
"Community Matters" is a place for discussions, questions, resources, links to funding opportunities and other information to help build closer collaborations, networks and partnerships in the community. You will learn about local non- profit organizations and their programs, volunteer opportunities and how you can help make a difference to bridge gaps and build a stronger, healthier and connected Clarksville-Montgomery County. If you would like to share your organization's story, or if you have a question or would like see a particular topic discussed, please e-mail me at or call Rita Arancibia at 931-551-5450.
Volunteers
Do you know about "Hands On Clarksville"? It is a volunteer-driven satellite program of "Hands On Nashville" operating in Montgomery County in order to connect citizens to volunteer opportunities in their neighborhoods. "Hands on Clarksville," (originally called Clarksville Tennessee Volunteers), started in the summer of 2009 by a group of local citizens seeing a need for a one-stop resource for volunteering. In early 2010, the initiative joined with "Hands on Nashville," allowing it to expand and benefit from the experience and resources of the Nashville program and its national affiliate. To learn more and to view a listing of Clarksville-Montgomery County-based service opportunities visit www.handsonclarksville.org
Our Community Matters News
Keep informed about upcoming events, funding opportunities, workshops and "Network Clarksville" meetings.
"Network Clarksville" is a grass roots community network for collaboration, innovation and volunteerism. The Network connects a range of partners to discuss roles each can play in addressing and solving local issues. Meetings are held bi-monthly and open to local nonprofit organizations, faith based groups, academia, local businesses, corporations and government agencies. "Network Clarksville" connects the community so members can exchange ideas, collaborate and take action on common issues of concern.
A "Network Clarksville" meeting will be held in partnership with "Hands on Clarksville" on April 12, 2011 from 2:00 -3:30 pm. at the Clarksville-Montgomery County Public Library in the large meeting room. Come share in the collective power of community and encourage the expansion of future collaboration and partnerships among organizations and the community. What will you bring to your community? For registration information e: mail: .
Current Funding Opportunities
Upcoming Workshop
Have you ever wondered how to create a relationship with a grantor or sponsor? Now is your time. Hands on Clarksville will host a FREE workshop: How White Paper Becomes Green Paper: An Introduction to Grants and Sponsorship on May 12, 2011 from 10:00 am-12:00 pm. at the Clarksville-Montgomery County Public Library, 350 Pageant Lane. This workshop will introduce the basics of finding and securing funding opportunities for your nonprofit organization through grants and sponsorship. We'll share examples of successful funded requests and provide tips to help you fine tune your proposals and achieve results.
The workshop instructor, Lisa Davis Purcell is Director of External Affairs at Hands on Nashville. She oversees the agency's public relations, marketing and development efforts. She holds a Master's degree in Art History and serves as a grant review panelist for the National Endowment of the Arts. Registration is limited, so be sure to register early. For registration information email: or for more information call 931-551-5450.
You've Got a Friend
A wish-list section for non-profit organizations' special needs will be posted monthly. If you are a nonprofit in Clarksville Montgomery County send your wish list to . Nonprofit organizations may request posting of needs four times a year.
About Rita Arancibia
Rita Arancibia, a native of Illinois has lived in Clarksville since 2002 with her husband Dr. Marcos Arancibia. To friends, colleagues and community leaders she is known for her involvement in community organizations throughout Clarksville. Rita's love for helping people started at an early age when her family visited local nursing homes on Sunday afternoons and as a girl scout. While living in Chile, she was no stranger to volunteering, tutoring students at a small school in the Andes. Rita has continued volunteering for more than 40 years.

In 2003, she organized a Housing and Homeless Coalition, which under her leadership and vision helped create the Old FireHouse Day Shelter and Resource Center and Room in the Inn Winter Shelter Program for homeless persons. In 2009, she started Empty Bowls, a grass roots initiative providing support to Loaves and Fishes and Urban Ministries Grace Assistance Food Pantry. Recently, she founded Hands on Clarksville along with a community advisory team. Hands On Clarksville is a program of Hands on Nashville and works to inspire and mobilize volunteers and create new volunteer opportunities to bring citizens into service.

Throughout her career she has been an active organizer, from community festivals in rural Illinois, development of the Clarksville Downtown Market, organizing outreach programs in Public Housing to connecting various civic and community groups to bring about positive change in her community. She is known for leading people from idea to action and turning ideas for change into projects that change lives and build community.

Web Site: http://www.handsonclarksville.org/
Email:
Sections
Commentary
Topics
Bank of America Foundation, Community News, Community Wish-List, Connects, Ford Foundation, Hands on Clarksville, Knight Survey, Neighborhood Exccellence Initiative, Non-profit funding, Ongoing Efforts, Our Community Matters, Soul of the Community, Stage Directors and Choreographers Foundation, Target Stores Grant Program, Toyota International Teacher Program, Volunteers, WHO Foundation, Workshop, Xerox