APSU Women's Tennis

Clarksville, TN – Austin Peay State University women's tennis team will begin its Ohio Valley Conference Tournament title defense as the No. 4 seed with a 10:00am, Friday match against No. 5 Murray State at the Larry J. Heflin Tennis Center, in Paducah, KY.
With a win, the Lady Govs would advance to play regular-season champion Jacksonville State in a 10:00am, Saturday match. No. 3 Eastern Kentucky and No. 6 Morehead State also play in first-round action, Friday, with the winner advancing to play No. 2 UT Martin.
"We have a young team and we knew that expectations were going to be different this year," head coach Malik Tabet. "This year was a matter of building the team and understanding where we need to go. The further we got into the season, the more responsive the players were to what we asked as coaches."
Despite having the returning OVC Player of the Year in junior Vanja Tomic and the 2010 OVC Freshman of the Year in sophomore Carolin Weikard, the Lady Govs have seen their share of struggles throughout the season. Tomic has been strong at No. 1 singles, with her 14 wins tying for the league best. Weikard finished with a 5-3 OVC mark.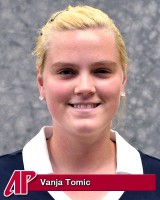 Tabet knew there were going to be challenges when he lost a pair of All-OVC selections to graduation after winning the tournament title last season. He added four freshmen to make up the bottom of his lineup, but lost one early and was forced to play with only five players the season's majority.
Freshman Kimberly Loo enjoyed an impressive spring, winning 13 matches, including seven at No. 4 singles and six at No. 5. Loo also teamed with Weikard for a 7-1 mark at No. 1 doubles, including a 3-1 OVC clip.
Freshman Andra Cornea had a 5-2 OVC mark at No. 3 singles, winning six overall matches. Freshman Rachel Margolies also showed constant improvement throughout the season, playing everywhere but No. 1 singles. Margolies with 6-2 in OVC play.
"Kimberly and Rachel really stepped up," Tabet said. "Rachel was expected to play No. 5 and she's been at No. 3 for us. Vanja has had an up-and-down season, but she's been solid the past two matches."
Murray State, meanwhile, has won three matches in the last three days, defeated SIU Edwardsville, Eastern Illinois and Morehead State. Each of those wins have come since dropping a 4-3 decision to Austin Peay, last Sunday. The Lady Govs defeated the Racers by winning four of six singles matches after dropping the doubles point.
"When you win a 4-3 match, it could've gone either way," Tabet said. "We realize that and I hope that we can finish, Friday. We played horrible doubles against them last time out. This is the conference tournament and anything can happen."