APSU Women's Tennis

Clarksville, TN – Junior Vanja Tomic and sophomore Carolin Weikard, of the Austin Peay State University tennis team, were each named first-team All-Ohio Valley Conference, as voted on by the league's coaches, Thursday, the league office announced.
It is the second-straight year for Tomic and Weikard to earn first-team All-OVC honors and also marks the third consecutive year for the Lady Govs to have a player named to the first team. Last season, Tomic was the league's Player of the Year and Weikard was Freshman of the Year as the Lady Govs won the tournament championship and advanced to play Georgia Tech in the NCAA Regional.
No argument exists that last year's team set the bar high and, despite returning two of the league's top players, a drop-off was expected in having freshmen fill out the bottom four spots. But Tomic and Weikard provided consistency at the top two spots.
Tomic posted her second double-digit win season in as many years, winning 14 of 17 matches at No. 1 singles. She started the season with four straight wins, including an impressive non-conference stretch. Tomic won back-to-back three-set matches – the first at Xavier, where she lost the middle set and the second against Western Kentucky, where she dropped the opening set.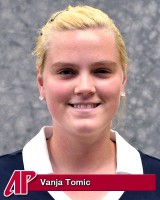 "Vanja was injured in the Fall and it was difficult to get her to the level she could've been playing," head coach Malik Tabet said. "I thought she did a good job in limiting the damage. She played a lot through her talent this year. You can look at her results and see the type of player that she is."
She played only three more three-set matches the rest of the way, winning each time. After falling at Southern Illinois, March 4, Tomic closed the season winning nine of her last 10 matches. Against OVC teams, Tomic went 7-1. Her only loss – and first career OVC loss – came against UT Martin's  Jodie Tiley, who herself is a first-team All-OVC pick.
Weikard's posted an 9-9 overall singles record, including a 5-3 OVC mark. In her second OVC season, her biggest contributions came in doubles play. Weikard played with both freshmen Andra Cornea and Kimberly Loo, posting a 12-2 record at both of the top two doubles positions. A skilled doubles player, Weikard's team won six of seven doubles matches in OVC play.
"It's nice to have Carolin at the top of the lineup," Tabet said. "I don't think she was happy with a lot of her results this year and I think a lot of it was mental. She needed to play more against her opponent than against herself. She did a great job in doubles, playing with a freshman."
She began the season playing with Loo and winning their first four matches. But when Tabet opted to balance out the doubles teams, he paired Weikard with Cornea. Again, Weikard thrived, this time winning five of six matches with the lone loss coming at Louisville. Weikard and Loo rejoined to win three of the final four matches.