APSU Women's Tennis

Paducah, KY – Freshman Kimberly Loo had to grind out a three-set win at No. 4 singles in order for Austin Peay State University women's tennis team to defeat Murray State, 4-3, in first-round Ohio Valley Conference Tournament action.
It was a match both teams had played just 10 days earlier, in Murray, KY, ending in the same result. Ten days ago it was sophomore Carolin Weikard winning the deciding match at No. 2 singles. This time, the decider fell in the hands of a freshman and Loo pulled through.
The win came in spite of Loo dropping the first set in a tiebreaker, both of which she led. In the second set, Loo was ahead 4-2, but let Murray State's Lindsey Wiseman battle back to make it close. It wasn't until the final set where Loo exerted herself with aggressive play at the net, taking away Wiseman's lob game.
"It's all mental when it comes down to these types of matches," Tabet said. "It's all about how you can step back and realize what's going on, what type of weapons you have as opposed to your opponent and what strategy needs to be applied. Kimberly dabbled a lot today, so I had to stay close and keep her on board with what we wanted to do."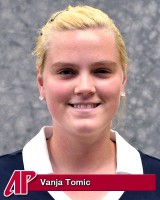 Momentum was definitely on the Lady Govs side after winning a convincing doubles point against a Racer team that owned them 10 days ago. That momentum was translated into wins by junior Vanja Tomic and Weikard at the top two singles matches. Both matches were quick wins for the Lady Govs, as the Racers went down in straight sets.
"I was very pleased with the way the girls played in doubles," Tabet said. "They were very focused, they came in and took care of business. They carried that momentum into singles play. I was very proud of Carolin; she stepped up today and showed that she had a better game than her opponent."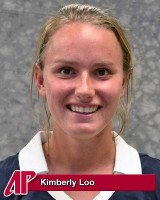 The Lady Govs were without freshman Rachel Margolies, who was slated to play No. 3 singles. The injury meant moving freshman Andra Cornea to No. 3, Loo to No. 4 and senior Brittany Hays to No. 5. It also meant, much like they had done most of the season, the Lady Govs defaulted No. 6 singles and No. 3 doubles.
"Being down a player didn't mean anything today," Tabet said. "As long as you have four competitive players that can bring the doubles point and get three singles matches, that's all you need."
Loo's win helped the Lady Govs live another day in OVC Tournament play, advancing to face Jacksonville State in a 10:00am, Saturday match scheduled to be played at the Larry J. Heflin Tennis Center.
Box Score
Murray State vs Austin Peay
April 15th, 2011 at Paducah, Ky
(Rowton Tennis Center)
Austin Peay 4, Murray State 3
Singles competition
1. TOMIC, Vanja (APSU) def. CUNITZ, Cassidy (MURW) 6-3, 6-4
2. WEIKARD, Carolin (APSU) def. CANTY, Ashley (MURW) 6-0, 6-2
3. WEBB, Alexis (MURW) def. CORNEA, Andra (APSU) 6-3, 6-1
4. LOO, Kimberly (APSU) def. WISEMAN, Lindsey (MURW) 6-7 (4-7), 7-5, 6-1
5. SUGA, Carla (MURW) def. HAYS, Brittany (APSU) 6-2, 6-2
6. PIERSON, Ashley (MURW) def. MARGOLIES, Rachel (APSU) retired
Doubles competition
1. LOO, Kimberly/WEIKARD, Carolin (APSU) def. CUNITZ, Cassidy/CANTY, Ashley (MURW) 8-2
2. TOMIC, Vanja/CORNEA, Andra (APSU) def. WEBB, Alexis/SUGA, Carla (MURW) 8-1
3. WISEMAN, Lindsey/VICK, Taylor (MURW) def. MARGOLIES, Rachel/HAYS, Brittany (APSU) retired
Match Notes: Murray State 10-13 Austin Peay 9-10