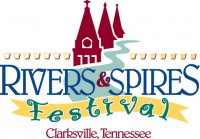 Clarksville, TN – The second day of the Rivers and Spires Festival opened on Friday to good weather in spite of rains earlier in the day.
Sadly, the good weather only lasted for half an hour when the first of three lines of rain showers moved through the area. To escape the rain, crowds huddled under whatever dry spaces were available including under the awnings at First Baptist Church, and various business entrances along the streets, and the Roxy Regional Theatre on Franklin Street.
After each shower the personnel managing each of the stages had to dry the stages, in what was was an extended process before the performances could continue.
When the first line of showers hit, Aspire to Stardom was on the Fun Zone Stage with a large crowd on hand to watch the talent competition. The decision was made to reschedule all of the remaining Aspire to Stardom performances starting at 6:00pm on Saturday.
When the last line of showers moved into the area shortly after 8:00pm, the decision was made to cancel the remaining performances including "Here Come the Mummies" who were scheduled to perform at 9:00pm to the disappointment of the assembled crowd. According to festival organizers, the group will not be returning on Saturday due to the already full schedule of performers.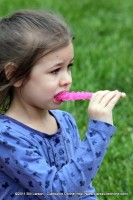 The weather situation is expected to improve today, with forecasters calling for it to be, "Mostly cloudy with isolated showers. Breezy…Cool. Highs in the mid 50s. Southwest winds 15 to 25 mph. Chance of rain 20 percent."
The Festival resumes today at 10:00am with Ballet Folklorico Viva Panama on the Strawberry Alley Stage, The Distinguished Steppers Unlimited on the Third & Main Stage, and Gateway CAST & Crowns on the Court House Stage. The always popular Jazz and Wine area opens at 1:00pm at Trinity Episcopal Church. Clint Black is scheduled to close out the evening with a free concert on the Public Square stage starting at 9:00pm.
For a full schedule of festival events and performances, along with maps showing exactly where to find what you want to see visit the Rivers and Spires web site.
Photo Gallery