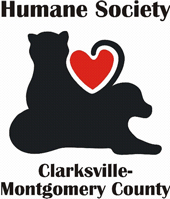 Clarksville, TN – Hello Friends! The picture below was taken the day the Humane Society of Clarksville-Montgomery County came to my aid… I was a scrawny puppy with a broken leg. Who would want me, right? I was battered and broken, but my new friends were on a mission to show me that my life had far more value than I had been shown in my short 6 months of life.
I immediately fell in love with my foster mom that day at the Humane Society office and climbed right into her lap. She worked tirelessly over the last few months getting me back and forth to weekly vet appointments, helping me potty during those early days with the cast, and trying to keep me as still as possible when my wiggly butt just wanted to play-play-play… cast or no cast!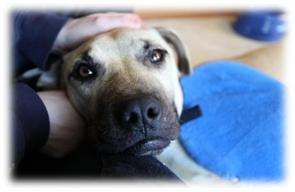 I am so thankful to my foster mom Caroline for her unconditional love, because I'm sure it wasn't always easy… after all, I'm no small fry ya know (I'm making up for all those meals I lost out on as a pup).
Now it is my hope – with YOUR help – that I can truly thank the Humane Society by helping to collect enough donations (no amount is too small… or too big!!!) to offset my veterinary expenses, which were a whopping $1,057. I want to be sure that they have the funds to help the next needy pet get the same great treatment as I did. 
Love, Buddy.
Donations
You can donate to Buddy online by clicking here.
To donate by mail, send a check payable to Clarksville Humane Society, PO Box 571, Clarksville, TN 37041 and put "for Buddy" on the memo line. We can also process credit card donations over the phone at 931-648-8042.
Buddy's Road to Recovery