Written by U.S. Air Force Senior Airman Amber Ashcraft
Panjshir Provincial Reconstruction Team Public Affairs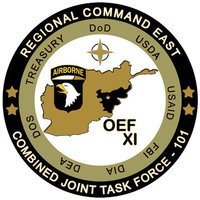 Panjshir Province, Afghanistan – Panjshir Provincial Reconstruction Team members attended a Buzkashi match in Paryan District, April 7th.
Buzkashi, which literally translates to goat dragging, is the national sport of Afghanistan. The crowd consisted of more than a thousand people including local Afghans and several PRT members
"I've read about the game and seen it portrayed in movies," said U.S. Air Force Lt. Col. Joseph Blevins, the PRT commander and Oregonia, Ohio, native. "You don't truly appreciate the level of intensity involved until you see a match in person."
The game is played on special occasions such as weddings, the Islamic holiday of Eid and Nowruz, or Afghan New Years.
This particular Buzkashi game was played for the Paryan District Governor Abdul Jalil's son's wedding. Jalil invited members of the PRT to attend the match and help celebrate.
"The PRT is involved in a lot with Panjshir, so I wanted to invite them to something a little more personal to build our friendship," said Jalil through an interpreter.
The chapandaz, or Buzkashi players, and their horses go through rigorous training before competing in the game. The object of the game is to grab the carcass of a goat or calf, clear it of other players and get it into a target circle to attain points. The game can last anywhere from an hour to several days.
This match lasted three hours.
"Being at a Buzkashi game is kind of like being at a Nascar race, in the middle of a rodeo," said U.S. Air Force Senior Airman Darin Pugh, a PRT vehicle maintenance member, and Tacoma, WA, native. "It's a truly interactive sport. Not only do the participants need to have their head on a swivel, to find the carcass to score. The onlookers also have to keep theirs rotating as well, to keep from being trampled, as the boundaries and sidelines become intertwined."
The players usually wear heavy clothing and head gear to protect themselves against the other players' whips and boots. The boots usually have high heels that lock into the paddle, of the horse's saddle. This helps the rider lean on the side of the horse while trying to pick up the carcass.
In the end, winners are awarded a chapan (an intricately decorated coat), turbans and cash among other prizes.
"The winner received 4,000 (Afghani)," said Jalil, who was also a player in the Buzkashi game. "We're very happy the PRT members were able to attend."