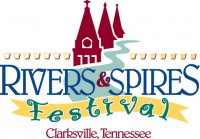 Clarksville, TN – The weather outside on Saturday was blustery, cold and miserable, but inside the lower level of Madison Street Methodist Church was a display of quilts that warmed the heart of any by-stander.
Quilts of the Cumberland featured more than 50 quilts, ranging from tiny miniatures to full bed-sized artworks. The variety of quilts shown in this exhibit ranged from the perfection of purple geometric pieces in French Braid to the beautiful Geisha of Winter Snow and Tea Ceremony to the shimmering fish in Retiring Fish. Other quilts featured everything from animals to clowns to romantic flower designs.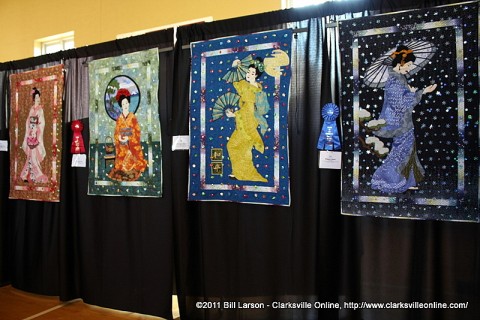 The display was sponsored by the Clarksville Sewing Center, Country Quilters' Quilt Guild, Quilt Posse Quilt Guild, Quilt and Sew at Golden Threads, and Wooka's Stash. The competition was judged by Jamie Williams of Lebanon, Tennessee. Quilts of the Cumberland was, at least in my estimation, the hidden jewels of the 2011 Rivers and Spires Festival.
Winners were as follows:
Best of Show:
French Braid by Margie Davis, quilted by Justine Burris
Bed Quilts:
First Prize: O, My Stars by Carolyn Landers, quilted by Justine Burris
Second Prize:  Christmas Pickle by Tammy Campbell
Art Wall Quilts:
First Prize: Winter Snow by Linda Bridges
Second Prize: Tea Ceremony by Linda Bridges
Miniature Quilts:
First Prize: Retiring Fish by Pam Jones
Second Prize: Fore by Pam Jones
Beth Lane had a special exhibit of miniature quilts made of reproduction fabrics with designs inspired by the quilt books, Children of the Prairie, and Jo's Little Women.
Jerry Church displayed a variety of quilts that were not entered in the competition. Her Flowered Log Cabin is a bed-sized quilt made in a traditional "log cabin" pattern. Red Fan-tastic features geishas and fans in square blocks. The Young Buck and his doe have deer faces on wall hangings. Penguins on Parade is a wall hanging quilt with three penguins and snowflakes. Wanda's Stars has a brown border and blue stars in the center. Good Luck Token is a fish with fishing pole pattern and has tropical fish with pinwheel-type twirls in the piecing; Jerry and Justin Burris worked on this quilt together as Justine taught Jerry how to use the long-arm quilting machine.
Other quilters in the show were Rosemary Salerno, Justin Burris, Kimberly Skaggs, Susan Pederson, Jean Marr, Carol Ballard, Wilma Bea Goddard, Kathy Stuard, Wanda Morrison, Beverly Quinn, Alicia Slayden, Jessica Greene, Naomi Erwin, and Joy Hatcher.
Judging for a quilt show, according to the National Quilting Association is based on several criteria: workmanship based on general construction, stitches, finishing, special techniques; and design and/or appearance involving unity and design elements.
For instance, corners of pieces should be precise with points sharp. All borders must be straight; in fact, one of the first things a judge does is to measure the borders to see if each is not only straight but of the exact same number of inches wide around the quilt. All appliqués should be securely attached and no dark fabric should show under light material. The stitches must be even with balanced tension and the amount of quilting must be appropriate for the design of the quilt.
By the way, quilting refers to the overall stitching pattern that keeps the design in place. Batting is the material between the front and back of the quilt.
Special techniques in quilting include embroidery, embellishments, beading, overlays, trapunto (a stuffed quilting design), and photo transfers.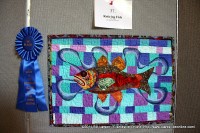 Unity of design means that "the top, quilting, fabric choices, sashing, borders, imagery, and finishing should be well planned and integrated. Line, shape, color, texture and value should be effectively used to produce an interesting, balanced and well-proportioned design."
For people who have not looked at modern quilts and remember only the patchwork quilts used on their grandparents' bed, viewing a quilt show can be an eye-opening experience. Modern quilts are truly works of art. Designs are in as big a variety as the imagination can encompass.
The Dorothy quilt by Wilma Bea Goddard has a picture of Dorothy from The Wizard of Oz in its center; surrounding the picture are red sequins and a circle of men's tie-shaped pieces all featuring scenes from the book and/or movie. Surrounding this is the yellow brick road, of course. At the edge of the quilt are the ruby slippers also covered in red sequins. Even the backing of the quilt has only Wizard of Oz materials.
Clowning Around by Carol Ballard shows a dozen different clowns in varying poses in as many quilt blocks.
Miniature quilts are a world unto themselves. Imagine piecing together hundreds of tiny triangles or squares of material no bigger than a postage stamp.
While others were battling the elements outdoors, I was reveling in the talents and creations of the women of the Montgomery County area who displayed their quilts.
Photo Gallery
Some of the many quilts that were on display at the Quilts of the Cumberland exhibit at the Rivers and Spires Festival.