APSU Women's Golf

Dickson, TN – Austin Peay State University women's golf team will take a trio of seniors, a junior and a freshman to GreyStone Golf Club this week in its bid to claim its first Ohio Valley Conference championship.
The 54-hole tournament begins Thursday morning on the par-72, 6,049-yard layout on the Mark McCumber-designed course opened in 1998. This is the second straight year the OVC has played its championship on the Dickson course. Murray State is the two-time defending champion.
The Lady Govs, meanwhile, are coming off a fourth-place finish a year ago and have shown steady improvement during the spring portion of their schedule. APSU will be led by senior Chelsea Harris, the 2009-10 OVC Player of the Year and defending medalist.
APSU coach Sara Robson dissected the season-long numbers of her eight-person squad to choose the final four spots. In addition to Harris, the Lady Govs will challenge with seniors Ashley Wathen and Catie Tucker along with junior Ashley Averitt, who recently shot a career-low 70 at Eastern Kentucky, and freshman Rachel Deaton, who was APSU's second-best golfer much of the fall.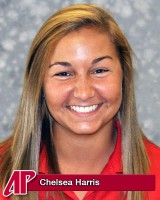 "I have the privilege everyday to coach eight amazing young women," Robson said. "They work so hard, are competitive and determined to play well this week at OVC.  The team is ready; they have had a great year and have done everything in their power to prepare their games for this opportunity.
"We have at times all struggled, but the important thing is that they have taken those struggles and have learned from them, worked on their weak areas and become better players."
As a result of last season's fourth-place finish, the Lady Govs will tee off at 8:50am, Thursday. Friday and Saturday tee times will be determined by what place the Lady Govs are in the standings entering the respective round.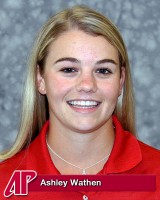 This will be the fourth OVC tournament for both Harris and Wathen while it will be Tucker's third. In fact, Harris won the 2010 title with a rain-shorted, 45-hole 180 score, five strokes better than her closest competitors. She became only the second Lady Gov—joining Amanda Phillips in 2001—to claim medalist honors.
Not only will Harris seek to repeat as medalist, she as well will attempt to record her fourth top-five finish and gain accompanying all-tourney honors. She enters this year's tournament having recorded APSU lowest 54-hole total in history with a 221 at Eastern Kentucky less than two weeks ago.
"We have all three of our seniors bringing some experience and determination into this week's line-up," Robson said. "These girls need to go out and have fun their last college tournament and let their abilities take over. If they do that, not only will they have a great tournament but our team will be successful as well.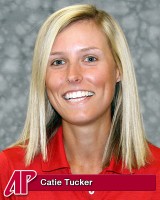 "With Chelsea being the reigning 2010 OVC medalist and Player of the Year, it is imperative that she relax and let things happen.  If she goes out and tried to repeat it will not happen; she needs to play one shot at a time and be patient. "
Harris and Wathen, who an opening-round 75 a year ago at Greystone, are the only two Lady Govs who played the course a year ago during the championships.
"GreyStone Golf Course is a difficult test of one's abilities," Robson said.  "There are several tight fairways, some challenging greens and a few holes that can cause havoc.  We will look for Chelsea and Wathen to share some of the things they learned last year with the other girls.
"This golf course sets up well for players who have good short games, can keep the ball in play and for players who are disciplined in their shot selection.  I believe we are prepared to accept that challenge this week and play well."
APSU, which played multiple challenging courses in the fall, comes into the tournament with a 317.9-stroke scoring average. That average is tied with Eastern Kentucky for fourth place among OVC teams entering the tourney. Jacksonville State owns the best average (301.5), followed by Morehead State (302.8) and Murray State (309.7).
"Historically this year we have played better the second and third rounds," Robson said. "It will be vital that we come out on Thursday relaxed, with patience and ready to make good decisions. We are going to do a few things to try and make sure we have a good start, let the butterflies settle and put together a solid first round. If we do that and then play the other two rounds with the confidence we have gained this year, the patience we have learned it is necessary and the love we have for the game, we will be successful."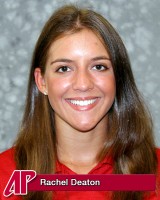 The annual awards banquet will be held Thursday night after the conclusion of the opening round. The All-OVC teams, the All-Newcomer team and Freshman of the Year will be announced that night. The OVC Player of the Year, Coach of the Year as well as OVC all-tourney and tourney MVP awards will be announced at tourney's conclusion.
Hole-by-hole live results from each day of the championship can be accessed through links at www.OVCSports.com.