APSU Women's Golf

Dickson, TN – Austin Peay State University women's golf team improved, Friday, in second-round Ohio Valley Conference tournament championship play, but not enough to be in Saturday's championship hunt.

The Lady Govs shot a second-round 312-seven strokes better than Thursday-but it still could not elevate them from fifth place with its two-day 631 total on the par-72, 6,049-yard GreyStone Golf Club layout.

Morehead State remains in first play after shooting a second-round 307 for a 599. They added three strokes to its first-round lead over Murray State (297-310=607). Eastern Kentucky (305-310=615) moved past Jacksonville State (304-313=617) for third place.

The Lady Govs are in fifth followed by Eastern Illinois (327-330=657) and Tennessee Tech (337-325=662) and Tennessee State (365-369-734).

"We played 15 holes really well today," APSU coach Sara Robson said. "At 15 we had two girls at plus-four4, two at plus-three and one at plus-two. But we just struggled coming in. The eighteenth was really a struggle for us. It already plays long and with the wind in our face, a bogey on that hole makes par.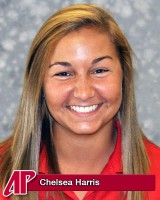 "I was really pleased with the way the girls played. We had a real solid round. We counted four scores under 80 and when you do that, you are going to have a good day."
But it was just a good day. The Lady Govs could not achieve that low round to make it a great day. Defending OVC medalist Chelsea Harris struggled early and then late to finish at 79. She has a two-day 154, tying her for 10th place.
Freshman Rachel Deaton bounced back from Thursday's late disaster to lead the Lady Govs with a 77 and is tied for 13th with a two-round 155. Senior Ashley Wathen and junior Ashley Averitt each had 78s while senior Catie Tucker also had a 79.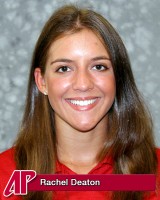 "Rachel really played well today and it could have been better with a bounce here or a bounce there," Robson said.  "She bogeyed 17, when the wind took her ball. And I think she bogeyed 18.  But I thought she really bounced back and played well today.
Although the Lady Govs realistically don't have a chance of winning the title, she expects the team to play well, especially her three seniors Harris, Tucker and Wathen, who also are roommates.
"It will be a bittersweet day for us tomorrow," Robson said. "We lose three seniors and I know they want to go out on a good note. They will come out and stay focused on what they are doing and not what think about what they have done in the past or will be doing in the future."
Sections
Sports
Topics
APSU, APSU Women's Golf, Ashley Averitt, Ashley Wathen, Austin Peay State University, Catie Tucker, Chelsea Harris, Dickson Tn, Eastern Illinois, Eastern Kentucky, GreyStone Golf Club, Jacksonville State, Lady Govs, Morehead State, Murray State, Ohio Valley Conference, OVC, OVC Golf Championship, Rachel Deaton, Sara Robson, Tennessee Tech