APSU Women's Softball

Clarksville, TN – Senior Tiffany Smith led off the bottom of the eighth inning with a walk-off home run to cap the Austin Peay softball teams 3-2 come-from-behind victory and earn a split in its Ohio Valley Conference doubleheader against league leader Eastern Illinois, with the Panthers taking the nightcap, 7-2.
For Smith, it was her fourth home run of the season and first since March 4, a line drive over the left field fence off Panther starter Amber May, to cap the comeback after the Lady Govs (11-34, 6-17 OVC) who had fallen behind 2-0 after three innings.
The homer also made a winner out of Lady Govs sophomore starter Morgan Brewer, who limited the Panthers to four hits, three walks and three strike outs in the complete-game effort.
Eastern Illinois (33-9, 20-3 OVC) had jumped in front 1-0 in the top of the first inning on Carly Willert's sixth home run of the season, while making it 2-0 in the third inning, also on a home run, this time by Melise Brown – her seventh on the year.
Austin Peay would tie the game in the fourth inning on a two-run triple by Brewer, driving in red-shirt sophomore Jessica Ryan and freshman Lauren de Castro – who had both singled.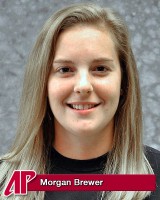 In Game 2, it was EIU's Stephanie Maday that had the upper hand in the circle, as she limited the Lady Govs to three hits and two walks, while striking out six to lead the Panthers to the victory.
Eastern Illinois also got their bats going in the nightcap, collecting 12 hits, including a two-run homer by Kiley Holtz in the third inning and Hailee Hanna's solo shot in the seventh inning.
Austin Peay's two runs would come on Ryan's two-run shot in the bottom of the sixth inning, while also scored pinch runner Taylor Mills – who had come in for junior Amy Mills, who reached on a walk.
Mills and Smith would have the other two Lady Govs hits in Game 2.
The two teams will conclude their three-game OVC series at Cheryl Holt Field Sunday at 1:00pm.