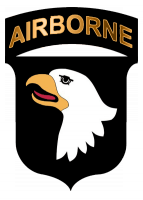 Fort Campbell, KY – It was an early morning arrival for 315 Soldiers with the 1st Brigade Combat Team this morning. Not even tornado warnings could keep family members from coming out to welcome home their loved ones.  There are 3 more flights scheduled to arrive at Campbell Army Airfield today.
The 2nd flight was scheduled to arrive at 5:11am bringing home 27 more soldiers with the 723  Explosive Ordnance Disposal Company.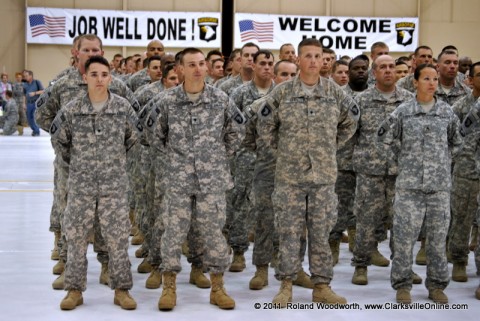 Once the plane was in sight, you could hear the excitement of the crowd as they screamed and cheered as they know their loved ones were safely back home.  As the soldiers steped off the plane made way to drop their gear, they were greeted by a few of the woulded soldiers from their unit and their mascot.
Kauren Leller was excited to see her boyfriend SPC Tyler Lambert along with his parents, Guy and Michelle Lambert, his brother Nick Lambers and grand parents Larry and Lois Lambert.  Once SPC Lambert is able to take leave, he and Lauren plan to travel to Hawaii to visit her parents.
The next scheduled flights are set to arrive at Campbell Army Airfield today. Flight times are 7:00pm and another at 7:50pm. If you wish to attend a Welcome Home Ceremony, check the flight schedules online, as times are subject to change at any time. When arriving to Fort Campbell, enter via Gate 7; if you don't have installation stickers on your vehicle, you will be required to get a visitor pass. From there just follow the signs to the ceremony parking. Waiting buses transport the Family members safely to the hanger.