Thousands of Tennessee Businesses Participate in Green Industry Research
Nashville, TN – The Tennessee Department of Labor & Workforce Development is celebrating Earth Day 2011 with preliminary results of Tennessee's Green Jobs Report, an account of data gathered in a survey of more than 6,000 Tennessee businesses. The survey identifies occupations and training requirements within Tennessee's green economy.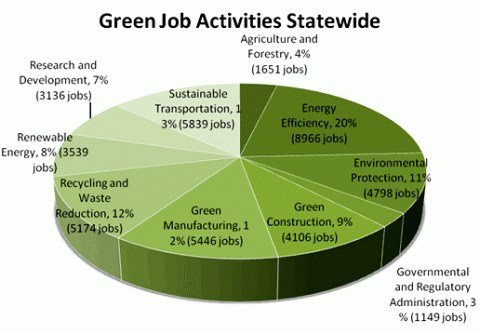 "The Green Jobs Survey serves as a baseline of this growing industry," said Labor & Workforce Development Commissioner Karla Davis. "This is a first step in understanding what the green job picture looks like in Tennessee and where it's headed."

The survey examined 10 green economic activity sectors: energy efficiency, renewable energy, sustainable transportation, green construction, environmental protection, agriculture and forestry, green manufacturing, recycling and waste reduction, research and consulting, and governmental and regulatory administration.
The following are highlights from the Green Jobs Report Executive Summary:
Green jobs in Tennessee total around 43,800 for 2010, which does not include additional jobs coming online during the 2011-13 period from investments such as Hemlock Semiconductor and Wacker Chemie polysilicon plants, Nissan (lithium battery and zero-electric vehicle), and others. See distribution of jobs by green activity in the graph below:
Energy efficiency is the green economic activity with the most jobs (almost 9,000), and sustainable transportation is the second most populous (around 5,800 jobs).
Industries with the most green jobs are construction and manufacturing (both with 22 percent) and transportation (13 percent) and professional and technical services (13 percent).
Among the largest green occupations in Tennessee are team assemblers, who may manufacture energy efficient appliances or solar or wind energy components; civil engineers, who are LEED project engineers or who direct sustainable city planning; transit or intercity bus drivers, who drive clean-fuel or low-sulfur buses, construction laborers, who work on home weatherization; and environmental scientists and specialists, who monitor environmental impacts and provide recommendations for mitigation.
Educational requirements for green jobs are as follows: the most common requirement is moderate-term on-the-job training (34 percent of jobs) – some formal or apprenticeship training could substitute for training on-the-job. Short-term on-the-job training (three months or fewer) is sufficient for 20 percent of jobs. The next most frequent requirement is a bachelor's degree (14 percent), which is required for most scientific, technical, engineering, and computer-related jobs.
Green occupations in potentially short supply range from refuse and recyclable material coordinators to agricultural science technicians to construction managers to energy auditors to urban planners, machinists, wholesale sales representatives, and environmental engineers. Additional shortage areas will develop as the economy improves.
Along with detailed tables and explanations of data, the survey report includes noteworthy vignettes of Tennessee employers who have developed green products or have other interesting involvement in green activity.
The survey sample included 6,044 firms in 11 industry categories expected to have jobs in one of the 10 green economic activities. The sample was selected by the U.S. Bureau of Labor Statistics from the green industry list provided by Tennessee. A survey response rate of 45 percent was achieved after two mailings and phone follow-up.
For additional findings of the Green Jobs Report, see the Executive Summary that can be found online now at www.sourcetn.org/. Tennessee's Green Jobs Report will be available in its entirety by May 6th. In addition to the baseline report, a separate report is forthcoming on the job impact of major new green investments in Tennessee, such as Wacker Chemie AG, Hemlock Semiconductor, Volkswagen, eTec, the Volunteer State Solar Initiative, and Nissan (lithium battery and zero-electric vehicle).
Sections
News
Topics
Earth Day, green, Hemlock Semiconductor, Jobs, Karla Davis, Nissan, Tennessee, Tennessee Department of Labor and Workforce Development, U.S. Bureau of Labor Statistics, Wacker Chemie