Clarksville, TN – The weekly Clarksville Parks and Recreation Department Recreation Report provides Clarksvillians with a glimpse at the activities and events that are available from the Parks and Recreation Department for them to enjoy together as a family.
This weeks highlights include:
Schedule for Billy Dunlop Park Closings
Coaches Needed
Queen City Road Race
Deposits Due
Senior Olympics
Geocaching Class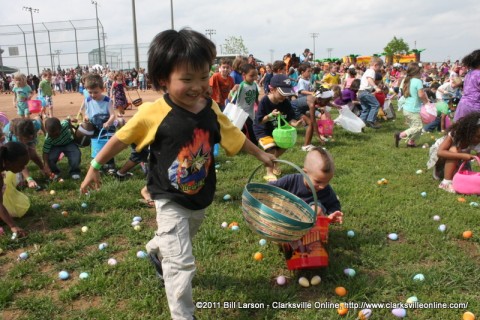 Closings scheduled for Billy Dunlop Park
Billy Dunlop Park will be closed to the public from 4 p.m., April 29 until noon April 30. The park will also be closed to the public from 4 p.m., May 3 until dawn the following day.  Both closings of the park will be for private functions.
Coaches Needed
The Clarksville Parks and Recreation Department's youth recreation baseball, softball, and t-ball leagues are in need of volunteer coaches for the 3-4 year old Blastball, 5-6 year old T-ball and 7-8 year old Coach Pitch leagues. Teams will practice twice per week beginning April 25 and games will begin June 6. All games are played at Heritage Park.  It is important to fill these volunteer coaching spots in order to allow the children registered in the league the opportunity to play in each game. If you are interested, please contact the Parks & Recreation Main office at 931-645-7476.
Register TODAY for the 33rd Annual Queen City Road Race
The Queen City Road Race is a Clarksville tradition promoting fitness and fun for all ages. The 5K race route takes runners through the streets of Historic Downtown Clarksville beginning and ending at Austin Peay State University's Governors Stadium while the One Mile Movement takes you on an exciting tour of a portion of the APSU campus.
Registration is simple; those participating in the 5K have an option to register online or in person. Online registration has no extra fee for the 5K race. Participants in the Wilma Rudolph 5K Relay and One Mile Movement can register by mail or in person at the Clarksville Parks and Recreation.
The Queen City Road Race is not just a running competition, but a promotion for fitness and health in the Clarksville community. Like last year, the race will include a non-competitive, one-mile event. Participants can complete the mile at any speed or rate they choose. It doesn't matter if you run, walk or skip the mile; just as long as you are up and moving!
Deposits Due May 2nd
Just a reminder, the final deposits for both the women's and church youth leagues are due by the close of business May 2nd. Deposits must be made at the Parks and Recreation Main office located at 102 Public Square.
2011 Senior Olympics Kick Off May 4
Senior adults ages 50 and up can register now until April 29 for the 2011 Clarksville Senior Olympics.  This year's events will be May 4-7 at various locations around Clarksville, including The Swan Lake Sports Complex and Golf Course, Kleeman Community Center, The Pinnacle Bowling Center, and Burt-Cobb Community Center. Seniors will face off for bragging rights, as well as medals in over 20 challenging events, which include shuffleboard, tennis, track, golf, bowling, basketball free throw, pickle ball, and swimming. Registration forms are available at the Parks and Recreation office and Community Centers
*NEW* Geocaching
Are you new to geocaching?  Are you an experienced veteran?  Somewhere in between?  We hope to see all of you at Billy Dunlop Park, located on Needmore Road between 101st Parkway and Tiny Town Road, Saturday, May 7 from 8 to 10 a.m. to learn more! Jose Ornelas, member of the KTAG group in Clarksville, will be teaching a free informational class and then you'll have the opportunity to find geocaches hidden in the park.