Written by Shanika Futrell
159th Combat Aviation Brigade Public Affairs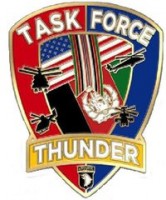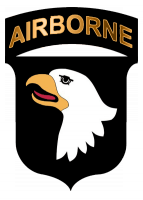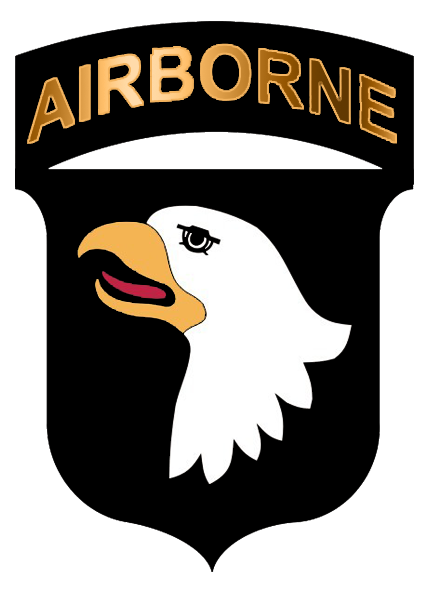 Kandahar Airfield, Afghanistan – Every airframe shop in the 159th Combat Aviation Brigade, Task Force Thunder, has one very important mission, and that's putting aircraft back in the fight quickly.
"We conduct minor maintenance on the aircraft daily, since we have quite a few OH-58 Kiowa helicopters and AH-64 Apache helicopters in our battalion," said Spc. Chris Moore, a structural aviation repairer with Troop D, 7th Squadron, 17th Cavalry Regiment, Task Force Palehorse.
Structural aviation repairers are responsible for maintaining all of the aircraft parts that are composed of sheet metal, fiberglass or Plexiglas. These materials make the structural part of maintenance more challenging than many of the other components.
"Out of all the maintenance shops within the brigade, our part is the most time consuming," said Spc. Miguel Peralta, the daytime production control representative for the airframe shop with Company B, 563rd Aviation Support Battalion, Task Force Fighting. "We use certain chemicals on our parts that have to dry before we continue to work on them."
Sometimes, it's not just the chemicals that can hold up the process. Structural aviation repairers try to use manufactured parts to fix the aircraft, but if parts aren't available they have the capabilities to fabricate their own parts.
"Because of certain damages not being able to be repaired, we have to often fabricate a part, which takes time as well," said Spc. Greg Villagomez, a structural aviation repairer with Company D, 7th Battalion, 101st Aviation Regiment, Task Force Lift.
"What seems to be a 10-minute job on the outside could very well turn into a couple of days worth of tasks," said Staff Sgt. Michael Haynes, the hydraulics and airframes Non-Commissioned Officer, Company D, 7th Bn., 101st Avn. Rgt. "Once you tear the aircraft down and assess the battle damages you will find out the exact maintenance that needs to be done for the aircraft to be mission-ready."
When aircraft come in for assessments, if the damage exceeds the aviation unit level of maintenance, then the soldiers of TF Fighting take on the responsibility.
"As the aviation intermediate level of maintenance, we conduct all of the maintenance that any of the battalions or attached units cannot conduct at the unit level of maintenance," said Pfc. Kenneth Hicks, a TF Fighting structural aviation repairer from Big Sandy, Tennessee.
The TF Fighting airframe shop maintains 24-hour operations to meet its mission.
"To provide the aircraft in a timely manner, we work all day on the day shift, and then pass the duties to the night shift, and when we return in the morning, we take back over," said Peralta. "We know how important an aviation mission is to the ground forces, so we intend to keep them effective by providing a timely service every day and every night."
Since their February arrival in theater, TF Thunder airframe shops have spent countless hours conducting airframe maintenance on a variety of aircraft here.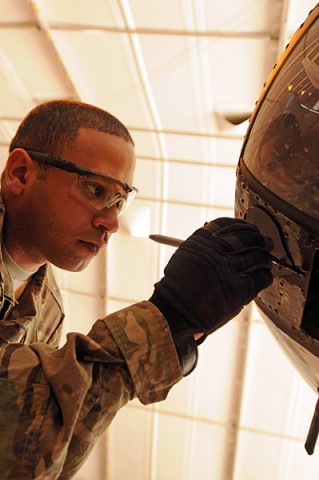 "But because we know that we cannot afford to have a bird down for too long, we ensure that we stay on top of everything giving equal coverage to all airframes," said Villagomez.
Some tasks are more difficult than others when it comes to maintaining an aircraft, but the airframe soldiers say they are up for the tasks at hand.
"Working underneath the aircraft is difficult because of the angle we have to work in," said Villagomez.
Despite the awkwardness required in accomplishing the task, it's critical that all parts are fixed and properly positioned back in their places, ensuring there is no damage to any of the equipment or other parts.
The airframe shop plays a critical role in the brigade's mission, and the soldiers know that by working diligently, but hastily, they are making the difference in several lives.
"Our mission is the same as many other shops here behind the scenes, and that is to keep our air crews supporting our troops out there on the ground," said Peralta. "I know that the faster we get things done, the more lives that are being saved out there in the fight. I am proud to do what little I can to share in that mission, and my team will continue to do our job to bring the troops back home."
Photos