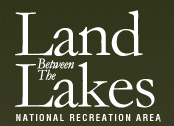 Golden Pond, KY – Extreme rainfall over the weekend and more predicted over the next two days, has created the potential for additional flooding and caused the staff at Land Between The Lakes (LBL) National Recreation Area to close or restrict certain facilities, roads, trails, and campsites. Lake levels for Kentucky Lake and Lake Barkley are expected to rise due to the flooding on the Ohio River.
Visitors should use caution on all roads and lakeside areas in LBL due to possible flooding from extreme rainfall, rising lake levels, and overly saturated soil conditions. 
Turkey Bay OHV Area and Energy Dam have been temporarily closed due to the large amounts of rainfall. Some trails, roads, and boat ramps that are prone to flooding or danger from rising lake levels have also been closed. LBL staff warns visitors who use the trails, roads, camping areas, and boat ramps to be extremely cautious.
In addition, everyone is urged to use caution when crossing creeks, streams, or any areas with standing or flowing water. All low lying areas should be avoided whenever possible. Gravel roads have the potential to washout during these heavy rain events.  Please use extreme caution when traveling on LBL's gravel roads. 
Due to water over the road, access to Energy Lake Campground is only available via Road 134 from US68/KY80 at this time. 
Visitors to LBL are encouraged to check the Alerts and Notices page on our website at www.lbl.org or to "Call Before You Haul," 270-924-2000, for current information and details.