Clarksville, TN – Downtown Clarksville and Austin Peay State University's campus will be subject to traffic control on race day — May 1st from 12:15pm until approximately 2:30pm for the event.
The following streets on the campus will be affected for the 5K Races: Marion Street, Drane Street, Farris Drive, Robb Avenue, 8th Street, Henry Street and Hannum Street. In downtown, the following streets will be affected: North 2nd Street, Main Street, Public Square, Franklin Street, 1st Street from Franklin to Commerce Street, Commerce Street from 1st to 3rd Streets, 3rd Street to Franklin Street, University Avenue from Franklin Street to College Street, and College Street to 8th Street. 
All 5K Runners are asked to yield and give the right-of-way to emergency vehicles anywhere on the course.
The following APSU streets will be subject to traffic control for the One Mile Movement from 1:45pm to 2:30pm: Marion Street, Drane Street, Farris Drive, 8th Street, Bailey Street, Henry Street and Hannum Street.
The Queen City Road Race is scheduled for May 1st at APSU Governors Stadium. The event begins at 12:30pm with the 5K Wilma Rudolph Relay, followed by the 5K Wheelchair Cycle Race at 12:45pm Then at 1:00pm, the foot racers will take to the streets in the 5K Road Race in beautiful downtown Clarksville. The event also includes the One Mile Movement, where participants can complete the mile at any speed or rate they choose. It doesn't matter if you run, walk or skip the mile; just as long as you are up and moving!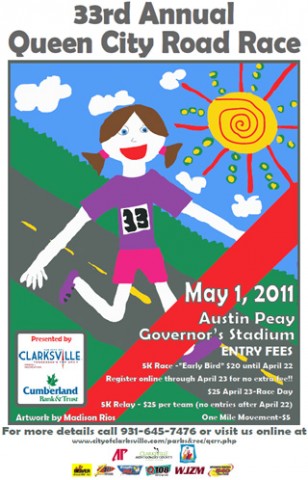 Day of Race registration will begin at 11:00am and end at 12:30pm. The entry fee for the 5K is $25.00 and the entry fee for the One Mile Movement is only $5.00. Teams will not be allowed to register for the 5K Relay on the day of the race as the deadline for entry has passed.
The 33rd Annual Queen City Road Race is presented by the City of Clarksville and Cumberland Bank and Trust and is co-sponsored by Austin Peay State University, Clarksville-Montgomery County School System, The Leaf-Chronicle, Q108, The Beaver 100.3 FM, Eagle 94.3 FM, Sports Radio 540 The Fan, Z 97.5 FM, Lamar Advertising, and WJZM.
For complete details about the Queen City Road Race, including a race schedule and course maps, please visit us online at www.cityofclarksville.com/parks&rec/qcrr.php or call 931-645-7476.