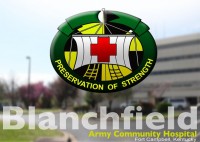 Fort Campbell, KY – Tricare beneficiaries now have more choices when filling new and renewed prescriptions at Blanchfield Army Community Hospital's Town Center Pharmacy on Michigan Avenue.
Prescriptions dropped off by noon at the Town Center Pharmacy's concierge desk will be ready for pick up by 3:00pm the same day. Prescriptions dropped off after noon will be ready for pick up after 9:30am the following business day. This service is available for new handwritten or computer-entered prescriptions.
Patients should complete a drop-off request and submit it to the concierge desk pharmacy technician. The pharmacy technician will review the request and provide a written pick-up date on a portion of the form. When patients return to pick up their prescription, they must provide the ticket to receive expedited prescription pick-up service with an R ticket. "Wait times for R tickets are typically less than 10 minutes," said BACH Pharmacy Chief Maj. Paul Kassebaum.
Kassebaum noted that the additional support at the concierge desk allows patients to speak with pharmacy staff before waiting to receive their prescription. In addition to the drop-off prescription service, the technician at the concierge desk will also review prescriptions to identify concerns before patients get to the pick-up window. Technicians at the concierge desk can also assist patients with third party insurance. Third party insurance collection brings money back into the hospital which is reinvested in patient care. After a quick review, the pharmacy technician will provide the proper queuing ticket.  Performing these tasks at the concierge desk will only take 60-90 seconds.
"While a small line may form at the concierge desk, this will not extend the length of the overall pharmacy visit," he said. To minimize wait times, the pharmacy technician will perform an abbreviated screening when there is not a line at the Pharmacy windows.  According to Kassebaum, the short wait at the concierge desk subtracts from the usual wait for a pharmacy window and decreases the overall wait time for patients.  After adding a pharmacy technician at the concierge desk, along with other strategic measures, the overall wait times at the Town Center Pharmacy have improved.
In addition to the increase workload in March 2011 with the redeployment of 101st Soldiers, the average wait time was less than 25 minutes. "We continue to strive to improve our services to patients daily," Kassebaum commented.
"These changes are due in part from helpful feedback by patients," said Kassebaum. "We are very excited to offer these services and streamline pharmacy visits."