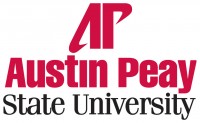 Clarksville, TN – A mathematics and physics major who will pursue her doctoral degree at Stanford University on a full scholarship and a history student who has become a mentor for transfer and nontraditional students received the two top student awards during Austin Peay State University's annual Academic Honors and Awards Day ceremony.
Casey McKnight was named the recipient of the William McClure Drane Award, and Deanna B. Carter received the Harvill-Civitan Citizenship Award.
Although both are chosen by faculty vote, Drane Award criteria include character, scholarship, leadership, and service to APSU. The Harvill-Civitan Award goes to the graduate who maximized his/her abilities and worked for the betterment of the University.

McKnight, of Clarksville,TN, is a double major in physics and mathematics with a concentration in statistics. Starting in September 2011, she will begin working toward a Doctor of Philosophy in statistics at Stanford University in Stanford, CA. She has been granted a full tuition waiver, as well as teaching and graduate assistantships.

McKnight attended APSU on several scholarships, including the Presidential Scholarship and the APSU Track and Field Scholarship. Most recently, she was a Presidential Research Scholar and worked as an undergraduate researcher in both the physics and the mathematics and statistics departments at APSU.

A consistent Dean's List Scholar, she was tapped to membership in Sigma Pi Sigma Physics Honor Society, Pi Mu Epsilon mathematics honor society. She has received top mathematics and physics honors each year.
For six weeks in 2010, McKnight participated in the Summer Institute for Training in Biostatistics at Emory University in Atlanta, GA. There, she reviewed and applied statistical methods to solve public health-related problems.
In addition, as an undergraduate, McKnight has made scholarly presentations before such professional organizations as the Mathematical Association of America Southeastern Section Conference and the Tennessee Academy of Science.
McKnight's leadership at APSU includes service as a member of the Student Athletic Advisory Committee, a resident assistant and mentor, calculus and geometry tutor, teaching assistant and a high school track aide helping to coach high school students in high jumps and hurdles.
Carter majored in history and plans to earn a master's degree at APSU. She came to APSU on several scholarships, including a Presidential Community College Scholarship, Phi Theta Kappa Scholarship and the APSU Honors Program Scholarship.
A nontraditional student who transferred from a community college, many of Carter's volunteer activities and service at APSU has focused faithfully on APSU's transfer student population. She was the charter president of the APSU chapter of the Tau Sigma National Honor Society for transfer students. She also has presented at several state conferences and campus sessions on behalf of transfer students.
In addition, Carter was a mentor for transfer students enrolled in the federal TRiO Student Support Services at APSU.
Carter has served as president of the Laurel Wreath Honor Society, vice president of Phi Alpha Theta and was an editorial board member of the first Theta-Delta Journal to be unveiled this week by Phi Alpha Theta. She also held memberships in Phi Alpha Phi and Omicron Delta Honor Society.