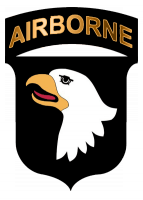 Fort Campbell, KY – The rain stopped just in time for the arrival of the flight carrying 310 Soldiers to Campbell Army Airfield early Thursday morning at 5:15am. There were 213 soldiers from the 1st Brigade Combat Team and another 97 from the 101st  Headquarters and Headquarters Battery (HHB).
Friends and family gathered just outside hanger 3 to watch the plane land bringing their loved ones home from a year long deployment to Afghanistan in support of Operation Enduring Freedom. Cheers filled the air as the soldiers exited the plane and began walking to the hanger.
Once inside the hanger Col. Bosse gave a short speech welcoming the soldiers home. Afterwards the soldiers were then given 15 minutes with their families before heading back to their unit to turn in their gear.
When the soldiers were released, family members scrambled to find their loved ones. For those soldiers without family present at the ceremony, cell phones were provided to allow them make calls to their loved ones telling them they were finally home.
If you would like to attend a Welcome Home Ceremony, check the flight schedules online, as times are subject to change at any time. When arriving to Fort Campbell, enter via Gate 7; if you don't have installation stickers on your vehicle, you will be required to get a visitor pass. From there just follow the signs to the ceremony parking. Waiting buses transport the Family members safely to the hanger.