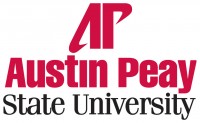 Clarksville, TN – During Austin Peay State University's Honors and Awards Ceremony on April 26th, Dr. Bert Randall, professor of philosophy, received the 2011 APSU National Alumni Association's Distinguished Professor Award.
Randall holds a Ph.D. in philosophy from the university of Oklahoma. He has a B.S. in mathematics from Maryville College, a Master of Divinity in theology from Louisville Presbyterian Theological Seminary and a Master of Arts.
In the 39 years he has taught at APSU, he has authored four books: "The Mystery of Hope in the Philosophy of Gabriel Marcel, 1888-1972: Hope and Homo Viator" (The Edwin Mellen Press, 1993); "Theologies of War and Peace Among Jews, Christians, and Muslims" (The Edwin Mellen Press, 1998); "Strangers on the Shore: The Beatitudes in World Religions" (Peter Lang Publishers, 2006); and "Holy Scriptures as Justifications for War: Fundamentalist Interpretations of the Torah, The New Testament, and the Qur'an" (The Edwin Mellen Press, 2008). He also has had 29 articles published in professional journals.
Randall has served one term as chair of the philosophy department, two terms as chair of the University Assembly, two terms as president of the Faculty Senate and as a member of the Academic Council.
Among the multiple awards he has received, Randall was named the recipient in 1993 of the APSU Hawkins Award for Excellence in Scholarship, nominated in 1996 and 1997 for the Carnegie Foundation Professor of the Year Award and nominated in 2009 for U.S. Professors of the Year. He also was awarded several grants for study and travel. On these grants, he has traveled to Syria, Kuwait, Jordan, Israel, Egypt, Yemen and Saudi Arabia.
In addition, Randall gives dozens of talks to educational, civic, community and religious groups yearly, including numerous sessions on Islam to various brigades at Fort Campbell, KY, prior to their returns to Iraq or Afghanistan.